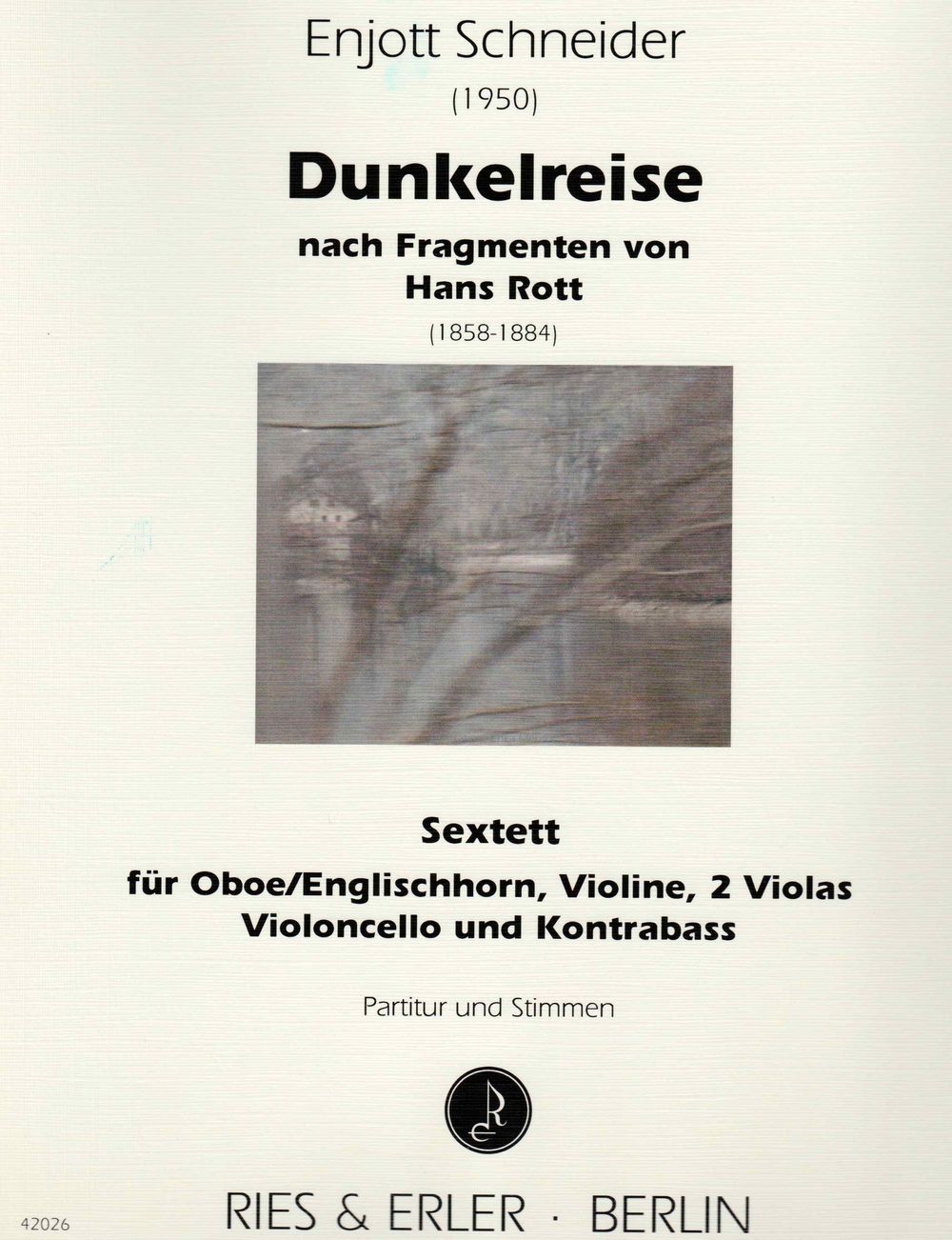 Update Required
To play the media you will need to either update your browser to a recent version or update your
Flash plugin
.
Category: Symphonic / Orchestral , Chamber Music
Modern music meets the romantic beauty! Hans Rott (classmate and friend of Gustav Mahler) died with only 26 years in the madhouse - mentally deranged. DUNKELREISE (can be played soloistic or as orchestral oboe concerto) takes fragments of this highly romantic music and presents them freshly - like diamonds in a new setting.
Movements: 1: Introduktion (introduction)
2: Idylle (idyll)
3: Intermezzo 1 (interlude 1)
4: Andantino (andantino)
5: Intermezzo 2 (interlude 2)
6: Scherzo (scherzo)
7: Epilog – Nachtklang (epilogue - sound of the night)

(the seven movements are to be played attacca in a bow)
Duration: 18 minutes
Publisher of notes/sheet music: Ries & Erler Berlin (Score and Parts) , 2014
Instrumentation: 1) sextet for oboe / English horn, violin, 2 violas, violoncello and double bass

or Oboe Concerto with:

2) Oboe/English Horn and string orchestra

The version with Oboe & Strings is recorded on CD for Label WERGO september 2015 in Vienna/Castle Grafenegg with Christoph Hartmann (Berliner Philharmoniker) and the Tonkuenstler Orchestra Austria, cond. by Kevin J. Edusei
Solo instruments: Oboe, Cor Anglais
Introduction: There are only very few known completed compositions of the artist Hans Rott, the genius composer, Bruckner student, friend of Gustav Mahler and creator of a trendsetting symphony. At the age of 26, this unbelievably talented individual perished tragically in a mental asylum. What remains is a collection of sketches, studies and fragments. Based on that collection, an imaginary tale was developed - one that alternates between delusion and reality. With a combination of consolation, manic longing and hopelessness, the listener is invited to embark on a pensive journey through a dark night.
Dedication: amicably dedicated to the oboist Christoph Hartmann
World premiere: 05.07.2015
Performers at world premiere: world premiere: 5.7. 2015 18 Uhr Christoph Hartmann (Berliner Philharmoniker) und Ensemble Berlin: Johannes Fleischmann (Violine), Ono Wakana und Tilbert Weigel (Viola), Clemens Weigel (Cello), Ulrich Wolff (Kontrabass)
bei den 17. Landsberger Sommermusiken (Aula der Berufsfachschule) Zusammen mit der Erstaufführung der "Dachs-Studie" für Streichquintett von Hans Rott (1858-1884)
Records: WERGO 5115-2 (Distribution Naxos) LC 00846, 2016
Performers on recording: Christoph Hartmann (Oboe), Tonkünstler-Orchester Austria, Conductor.: Kevin J. Edusei, recordings: 15.-16. September 2015 Auditorium, Schloß Grafenegg bei Wien