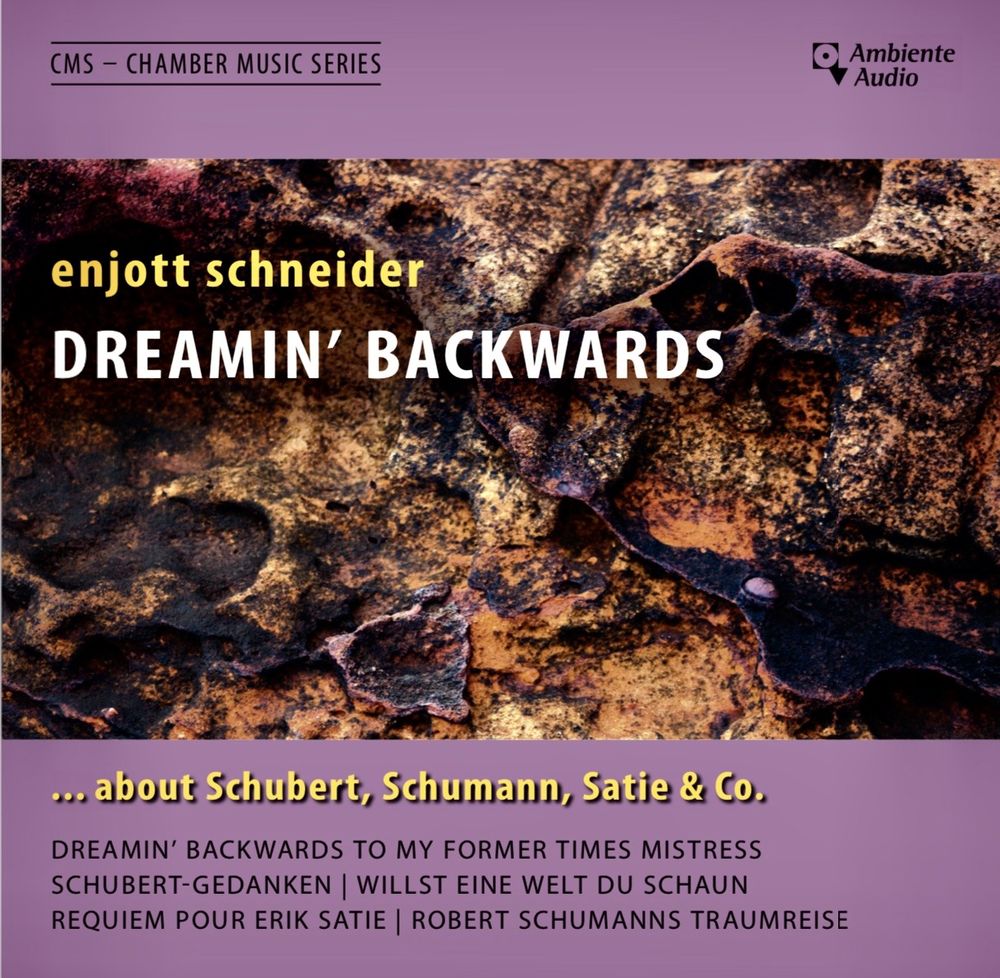 Update Required
To play the media you will need to either update your browser to a recent version or update your
Flash plugin
.
Category: Chamber Music , Choir / Vocal , Recordings
THE MAGIC OF CHAMBER MUSIC

This CD is the first in a series of releases of Enjott Schneider's chamber music on the Ambiente-Audio label as "CMS - Chamber Music Series": in contrast to the large and rather anonymous orchestral sound, the works of chamber music allow the performers a high degree of individuality, freedom and personal profile. In addition, unusual ideas and instrumentations can be realized here - far from socialized standardization - as in a research laboratory.
I'm very thankful to have gathered for this recording a group of outstanding soloists, - which performed the program first in a acclaimed Live-Concert at Seidl-Villa in Munich, - and then in a extremely detailled 3Days-production.
New music meets ancient music ... Current timbre of modern music is combined with the spirit of past centuries and creates new worlds full of fantasy and surprising to disturbing twists. The sound journey goes back to the Italian Trecento after 1200, to the English mystic and artist William Blake (1757-1827), to Franz Schubert (1797-1828), Robert Schumann (1810-1856) and to Erik Satie (1866-1925).
Movements: DREAMIN BACKWARDS...
Id01 DREAMIN' BACKWARDS TO MY FORMER TIMES MISTRESS
für Renaissance-Flöte solo

SCHUBERT-GEDANKEN. Zyklus nach den Friedrich Schiller-Liedern von Franz Schubert für Gesang, Violine, Viola, Violoncello, Kontrabass und Klavier
Id02: Dithyrambe
Id03 Gruppe aus dem Tartarus
Id04 Sehnsucht

WILLST EINE WELT DU SCHAUN… Mandalas für Klarinette und Klavier
Nach einem Gedicht von William Blake
Id05 Satz 1: Willst eine Welt du schau'n
Id06 Satz 2: In einem Korn von Sand
Id07 Satz 3: In einer wilden Blume einen Himmel seh'n
Id08 Satz 4: So fasse die Unendlichkeit in einer Hand
Id09 Satz 5: Und lass in einer Stund' die Ewigkeit vergeh'n

REQUIEM POUR ERIK SATIE für Klavier und Congas
Id10 Satz 1: La rose et la Croix
Id11 Satz 2: L'Ange du Bizarre
Id12 Satz 3: Suzanne Valadon
Id13 Satz 4: Inter Boves locum praesta
Id14 Satz 5: Et lux perpetua luceat eis

ROBERT SCHUMANNS TRAUMREISE
(Kerner-Lieder op. 35) für Gesang, Flöte, Bassklarinette, Perkussion & Klavier.
Id15 Introduktion
Id16 "Stirb, Lieb' Und Freud!"
Id17 Intermezzo I
Id18 Stille Tränen
Id19 Intermezzo II
Id20 "Wer machte dich so krank?"
Id21 "Alte Laute"

mit:
Christian Maria Schmidt (Gesang) - Stefanie Pritzlaff (Flöten) – Stefan Schneider (Klarinetten) – Stefan Blum (Perkussion) – Jelena Stojkovic (Klavier) ,
und das Seraphin-Ensemble mit: Winfried Grabe (Violine), Malte Koch (Viola),
Markus Wagner (Violoncello), Konstantin Kramer (Kontrabass)

© Schott Music 1, 10-21 / © Muscal Verlag 5-9 / © Manuskript des Autors 2-4
Ersteinspielungen / First recordings

Recordings:
19.6. – 21.6. 2020 in München / Künstlerhaus am Lenbachplatz
Recording & Editing: AUDIAMUS – Sebastian Riederer
Records: 2020