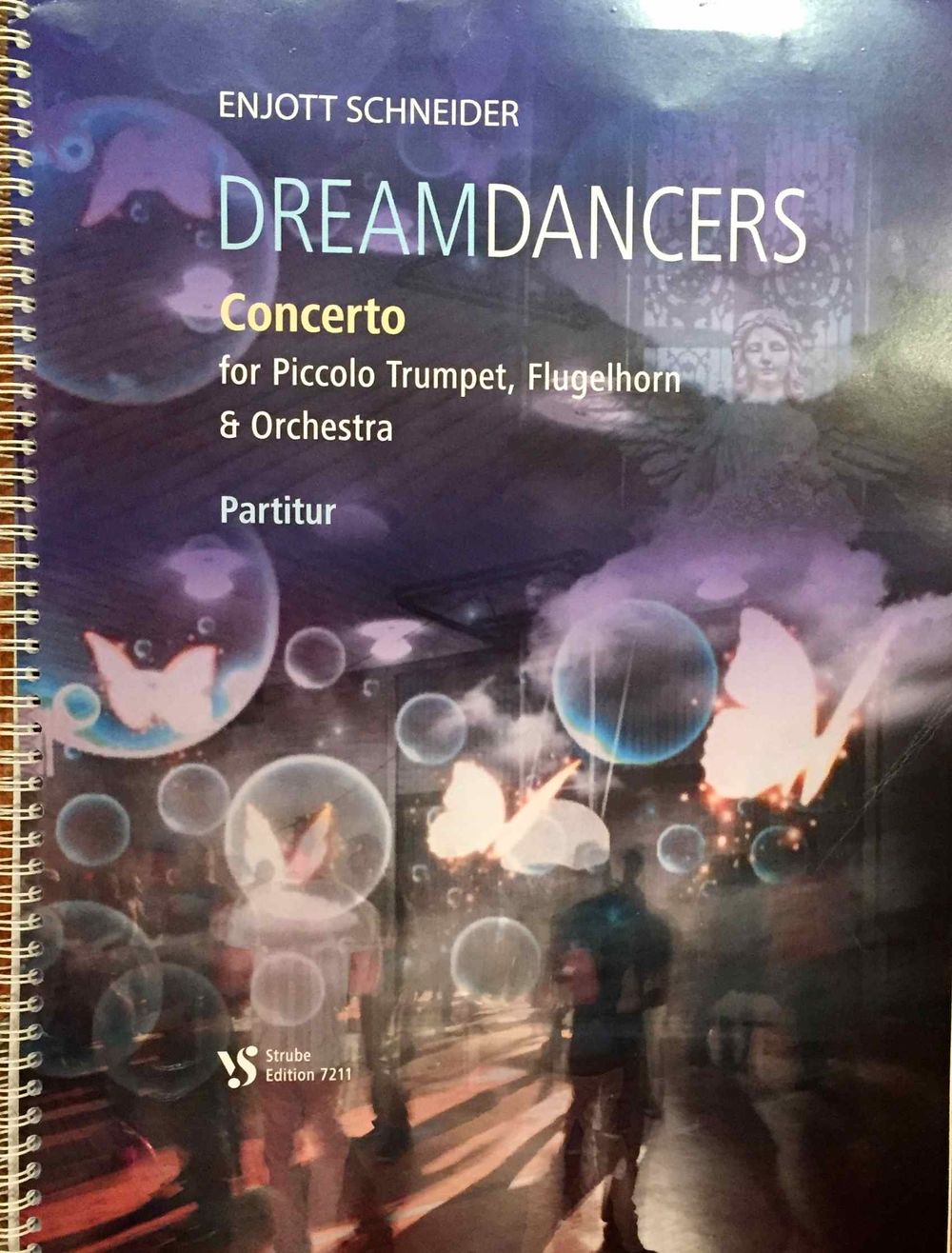 Update Required
To play the media you will need to either update your browser to a recent version or update your
Flash plugin
.
Category: Symphonic / Orchestral
Movements: 1: DREAMSCAPE: GREEN GALAXY WITH FLYING TIGERS & BURNING BUTTERFLIES ------------
2: MOON WALK - NOTHING IS REAL ----------------------
3: DANCING KOLIBRIS AT THE GATES TO HELL-----------
Duration: 26 minutes
Publisher of notes/sheet music: Strube-Verlag München , 2016
Instrumentation: Orchestration:
2 flutes (2nd also piccolo)
oboe (also English horn)
2 clarinets (2nd also bass clarinet)
bassoon (also contrabassoon)
french horns 1-3
trombones 1-3 (T-T-B)
harp
keyboardplayer (piano, celesta, synthy sounds drone)
-----------------------------------

Percussion 1-4
1: crotales, gran cassa, triangle
2: Glockenspiel, snare drum, 3 cymbals (hanging, also with bow)
3: Vibraphone, tamtam, metal chimes, Chinese cymbal (with bow)
4: Marimba, Waterphone, Tubularbells, claves, triangle

Large string orchestra

Solo instruments: Trumpet
Introduction: DREAMDANCERS , - a trip to the realities of the night - is about people who live in the weightlessness of the dream . The dream - called "royal path to the unconscious" by Sigmund Freud - shows our soul in the purest form with its mysterious infinity. We spend more times with dreaming than with any other activity : the logical and reasonable regulating cerebrum, which leads us through our daily business, had handed over the control to the limbic system during dreaming. During daytime norepinephrine supports thinking and serotonin tempers the emotionality of the limbic system . However, at night the limbic system is dominant - we travel to archaic rough worlds and experience storms of emotions and scenes beyond all reason.
By my techniques of composing I feel very connected to surrealism: as irreality is depressingly connected to tangible reality, where spiritual transcendence is connected to banalities of daily life, I am trying to compose an unreal kind of music by techniques of composing such as collage, confrontation, metamorphosis, disguise, leaps in time and pace overlaps, I am trying to convert familiarity and banality into something unknown.... always inspired by my brilliant role models, who created all from the dark world of dreams: Hieronymus Bosch, William Blake, Arnold Boecklin, Gustav Klimt, René Magritte, Giorgio de Chirico, Frida Kahlo, Salvadoe Dalí, Max Ernst, HR Tiger, Jean Tinguely, Ernst Fuchs - naming the incomplete line of ancestors...
The "dance" as rotating proper motion describes most closely the weightlessness of these worlds in terms of music. I gladly allow the "waltz" (fragment-like and orchestrated like a children's music of a fair) a leading role.
Let's think of the situation of sleeping when listening to DREAMDANCERS: when falling asleep the walnut-sized control center of the "thalamus" becomes active (thalamus means in ancient Greek "bedroom" or "inner chamber") and cuts of all connections to the cerebrum. Only pure feeling and a surreal flood of images remain. Everything is possible. I wish the listeners of this double concerto to live this experience!
Dedication: Sincerely dedicated to Sergei Nakariakov and Otto Sauter
World premiere: 25.03.2017, Novosibirsk / Russia
Performers at world premiere: Novosibirsk - Trans-Siberian Art Festival
with Sergei Nakariakov (Flugelhorn) & Otto Sauter (piccolo trumpet)
Novosibirsk Philharmony, conductor: Vladimir Lande
Records: WERGO "MAGIC OF IRREALITY" (distribution: Naxos) WER 5118-2 LC00846, 2018
Performers on recording: Otto Sauter & Sergei Nakariakov, Siberian State Symphony Orchestra, conductor: Vladimir Lande, recorded 1-5 October in Krasnoyarsk/Siberia