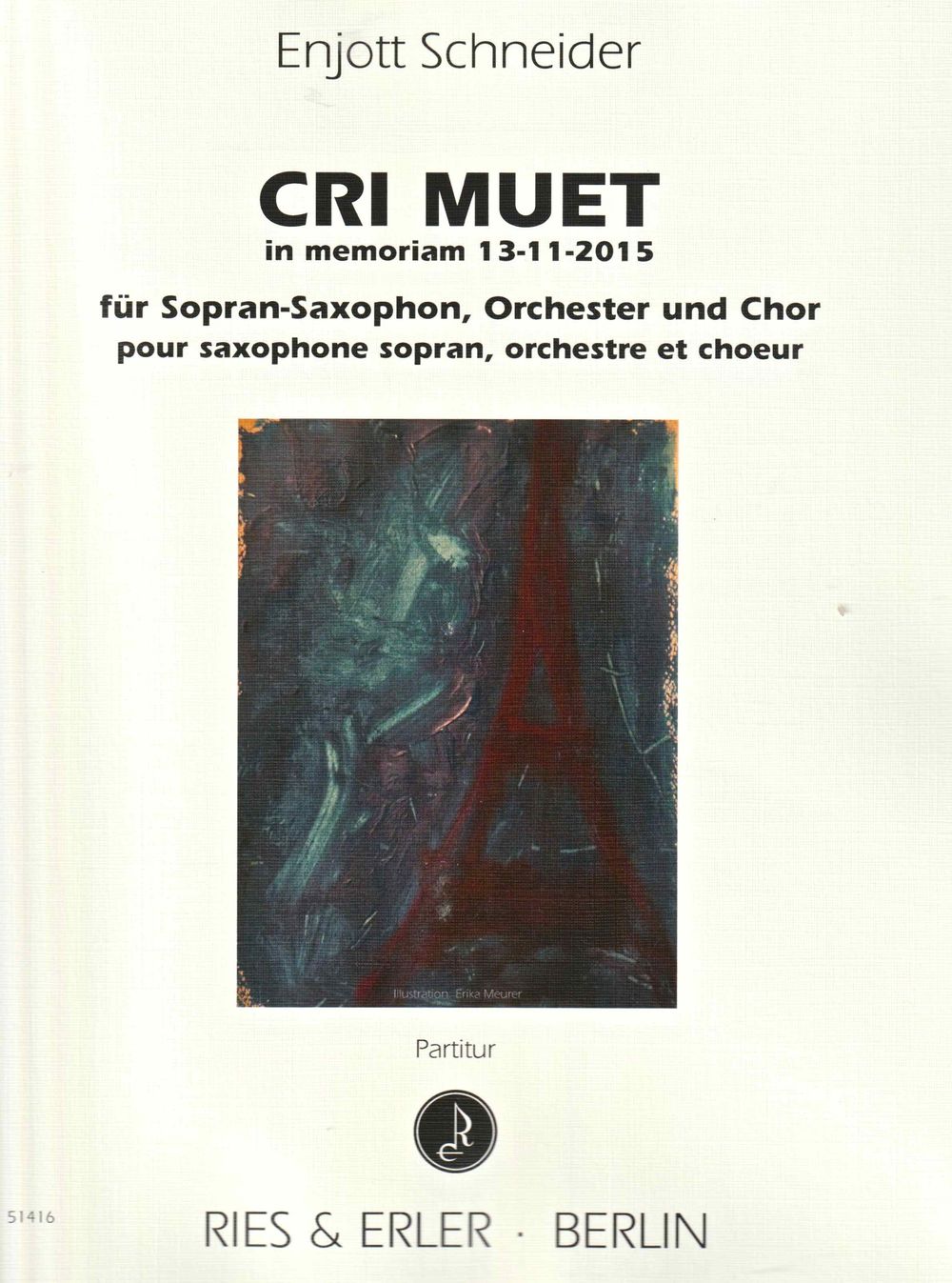 Update Required
To play the media you will need to either update your browser to a recent version or update your
Flash plugin
.
Category: Choir / Vocal , Organ / Sacred Music , Symphonic / Orchestral
Duration: 13 minutes
Publisher of notes/sheet music: Ries & Erler Berlin , 2016
Instrumentation: soprano saxophone (in B)

choir with soprano, alto and male voices

flutes 1+2 (2. also piccolo)
clarinets 1+2 (in B)
bassoon
horn 1-3 (in F)
timpani
percussion 1-3:
1: bass drum, 3 cymbals (suspended), triangle, crotales (ad libitum)
2: small drum, vibraphone, tomtom (big),
3: woodblocks, tam-tam, triangle, glockenspiel (chimes),

violins 1-3
viola 1+2
violoncello 1+2
double bass
Text/Lyrics by: Friedrich Schiller
Introduction: Enjott Schneider
CRI MUET (in memoriam 13-11-2015)
for saxophone soprano, orchestra and choir
-----------------------------------------------------
Prologue:
The work was composed for a concert of the saxophonist Christian Elin. At the request of the conductor Nicolas Krauze references to Beethoven's Symphony No. 9 should be included, which will also be played at the three world premiere concerts. Thus the composition CRI MUET (IN MEMORIAM 13-11-2015) originated as a "SILENT CRY", which is dedicated to the memory of the victims of the terrorist attacks in Paris of November 13. It is characterized by extended passages in most silent pianissimo, in which machine gun-like rhythms and staccato sometimes create a threatening atmosphere. Especially the "Adagio molto" from Beethoven's 9th Symphony is a tonal leading theme, which is confronted with a twelve pitch sequence of sighing tones with distinctive chromatic intervals as counterpart. The leading theme is also a rhythmically pounding "fate-motif" consisting of "1 eighth note - 2 eighth notes - 3 eighth notes".
The choir sings, whispers or shouts text fragments of Friedrich Schiller, such as "All men are becoming brothers", "this kiss througout the entire world", "Be embraced, millions", "Brothers, beyond the firmament, a loving father must dwell".
Dedication: ...dédié sincèrement à Nicolas Krauze, -
commémoration des victimes des attaques terroristes Paris 2015
(sincerely dedicated to Nicolas Krauze - commemorating the victims of the terrorist attacks in Paris 2015)

World premiere: 05.04.2016, Metropolitan area of Paris
Performers at world premiere: World premiere takes place in three cities in the metropolitan area of Paris (France): April 5, 2016 08:30 pm in the Corbeil-Essonnes Theater featuring Christian Elin (soprano saxophone), the Chambre Nouvelle Europe Orchestra, conducted by Nicolas Krauze, and the Chambre Nouvelle Europe choir (conducted by Mariana Yotova)
Repetitions on April 6, 2016 in the Sablons Theater, Neuilly-sur-Seine and on April 7, 2016 in the Beffroi Theater/Montrouge

Records: 2018