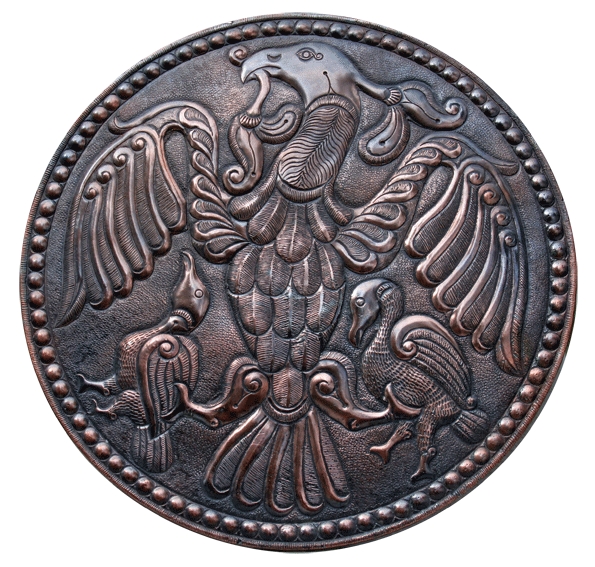 Update Required
To play the media you will need to either update your browser to a recent version or update your
Flash plugin
.
Category: Symphonic / Orchestral
Movements: 1: Emeshes Traum (Emeshe's Dream)
2: Geister ungeborener Kinder (Ghosts of unborn children)
3: Visionen (Visions)
Duration: 23 minutes
Publisher of notes/sheet music: Schott Music GmbH , Sheet music on loan , 2011
Instrumentation: cello solo
3 flutes (3rd also pic.)
2 clarinets in B-flat
Bass clarinet in B-flat
2 bassoons
3 horns (F)
Timpani
Percussion 1: Gong, temple blocks, Crotales, medium and large suspended cymbal, claves, tom-toms
Percussion 2: bass drum, marimba, small triangle
Large string orchestra
Solo instruments: Violincello
Introduction: 'Dugud' is the Sumerian name for an ancient oriental bird god in hybrid form composed of an eagle and a falcon. In Sumerian mythology, this god named Anzu- or Im-Dugud was also portrayed with the head of a lion. In Turkey, he is known as 'Togrul' and in Hungary as 'Turul'. He perches on the tree of life above the spirit of unborn children who also take the form of birds. According to legend, Emeshe was made pregnant by this bird in a dream and her son Álmos was the ancestor of the kings of Hungary. My cello concerto depicts a number of images from this myth in archaic scenes: the dark, erotic battle of impregnation, the dematerialised song of the unborn and the vision of a life led with the freedom of an eagle. (Enjott Schneider)

Dedication: Dedicated to Làszlò Fenyö
Additional remarks: In November of 2013, the piano extract was released by Schott Music ED 21667 and now be used for performances in music schools and student concerts.
World premiere: 26.04.2011, Rutesheim, Stuttgart
Performers at world premiere: Rutesheim Cello Academy, faculty Concert: with Laszlo Fenyo (solo cellist of the Hessen Radio Symphony Orchestra) and the Württembergische Philharmonie Reutlingen, conductor: Christoph Adt
Press reviews for world premiere: Press reviews in German language only:
Eine Komposition aus dem Herzen der Puszta
STUTTGARTER ZEITUNG 28.4.2011
Enjott Schneider hat dem Cellisten Lászlã Fenyö ein Werk auf den Leib geschrieben - einfach famos
(Gabriele Müller)
Zum ersten Mal hat die Württembergische Philharmonie Reutlingen als Festival-Orchester
bei der Internationalen Cello-Akademie fungiert.
Ein Höhepunkt war dabei die Uraufführung des Werkes "DUGUD", das der zeitgenössische
Komponist Enjott Schneider für Lászlã Fenyö geschrieben hat. Schneider war beim Konzert
selbst dabei und gab dem Publikum interessante Informationen zu seinem Werk mit. Weil
Fenyö aus Ungarn stammt, hatte er sich für ein Thema aus der ungarischen Mythologie
entschieden und sein Stück nach dem Vogel "Dugud" benannt, welcher der Sage nach die
Frau Emeshe im Schlaf geschwängert haben soll. Ihr Sohn wurde zum Urahn aller
ungarischen Könige. Außerdem führte Dugud die Ungarn nach Pannonien, einer einstigen
damaligen Provinz des Römischen Reiches.
Der mystischen Hintergrund der musikalischen Erzählung wurde schon nach den ersten
Tönen deutlich spürbar: Dunkel brodelte das Orchester, während die Cellostimme die Saiten
vibrieren ließ und dann immer höher aufstieg, bis die Holzbläser und das Glockenspiel in
helles Singen und Zwitschern verfielen. Rasante Läufe und gehetztes Tschilpen wurden von
Klappern und Schläge auf Holzblocks durchsetzt. Fenyös Cellostimme blieb dabei intensiv
und sinnlich. Der Moment, in dem sich der Vogel wohl zu Emeshe gesellte, war ebenso
deutlich wie schön. Schneider schuf hier mir einer Vielzahl von feinen und geheimnisvollen
Tönen eine Atmosphäre, als wäre der Äther voll bezaubernder Geräusche und Düfte.
Im zweiten Satz ging es um den Lebensbaum, um die ungeborenen Kinder, wie der
Komponist erläuterte. Hier glitzerten erneut vor allem die Holzbläser und das Glockenspiel,
und Fenyös Cello zirpte in den höchsten Tönen. Das Orchester spielte leise, kleinen
Wasserbläschen gleich, stiegen immer wieder zarte Melodielinien empor. So entstanden
hauchfeine, schillernde Klanggespinste. Zu kraftvollen Akkorden des Orchesters stimmte
Fenyö im dritten Satz eine slawische Melodie an, in dem es um den Weg nach Pannonien
ging. Percussiv wurde die Musik, die Rhythmen klangen ebenfalls nach Balkan-Folklore und
Klanghölzer prasselten wie Pferdehufe. Am Ende öffnete sich die akustische Landschaft zum
fulminanten Schluss.

Movie: