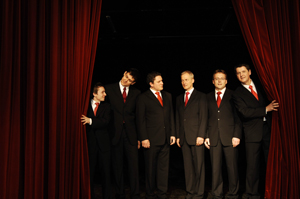 Update Required
To play the media you will need to either update your browser to a recent version or update your
Flash plugin
.
Category: Choir / Vocal , Organ / Sacred Music
The piece of success of the vocal ensemble SINGPHONIKER was for almost 20 years the VARIATIONS ABOUT LOVE...after erotic personals texts. Nowadays, after the internet has replaced the newspapers, it was time to "digitalize" the topic as well and to caricature the modern form of contact search with its madness of abbreviations and speed and to get to the point emotionally. - The work was also recorded on the CD of the same name by OEHMS Classics. In the booklet pages (reproduced below) you can find all the details about this witty composition, which is also available from Schott-Verlag Mainz in a sheet music edition for mixed choir and piano.
Movements: 1: Hiiiii, welcome, kiss kiss, thx
2: Dark Room, or: Lonely Hearts Ball
3: LOL & HDGDL, - a chatroom lexicon
4: A ballad of a mens' evening
5: Highspeedcyberdating





Cast:
Countertenor
Tenor 1
Tenor 2
Bass bariton
Bass
Piano
Duration: 17 minutes
Instrumentation: Countertenor
Tenor 1 and 2
Bass baritone
Bass
Piano
Text/Lyrics by: Enjott Schneider based on texts from the World Wide Web
Introduction: Original text:

1: Hiiiii, welcome, kiss, thx

Susi: Hiiiii
Knuddel: Welcome
Heartbreaker12: Hi Susi
Schnucki2: Hiiiiiiiiiiiiiiiiiiiiiii
Susi: reeeeeeeeee Knuddel
Heartbreaker12: Du Arsch was geht hier ab?
Knuddel: Wie geht?s?
Schnucki2: bussiiiii bussiiiiiiiiiiiiiiiiiiiiiiii
Susi: Bestens nur müd und dir?
Knuddel: Verpiss dich alta!
Susi: reeeeeeeeeeeeeeeeeeee
Heartbreaker12: speak someone english?
Knuddel: Gut drauf Susi!
Susi: Thanx
Schnucki2: You suck 2much (=too much) Fuck cyber!

Refrain:
OnlineChat ? AstroChat ? FaceBook - FlirtCafé
LiveStrip ? Camchat ? GoogleTalk ? ChatNoirMailbox
StudiVZ ?Gadugadu ? Webdating
Chatten, daten, Freunde finden, zwei Millionen Members
Hi, welcome, bussiiii, thanx

Maxi: Hiiiii
Nicki: welcome
Bitcrasher3: eine Rose für Maxi *grins*
Gabi4: bussiiiii bussiiiiiiiiiiiiiiiiiiiiiii
Nicki: Geil. ROFLMAO
Maxi: reeeeeeeeeeeeeeeeeeeeeeeee
Gabi4: wie geht?s bittie3?
Bitchrasher3: gut, und selbst?
Maxi: stimmung gut, kopf aua *grmpf*
Nicki: und das in deinem Alter *stichel*
Maxi: *frechgrins*
Nicki: omg
Bitcrasher3: HDL
Gabi4: blbr bussiiiiiiiiiiiiiiiiiiiiiiiiiiiiiiiiiiii
Alle: Fuck cyber!



2: Dark Room, oder: Ball der einsamen Herzen
Tutti: Anonym, diskret, Gangbang, Dirtygirls, Nighttalk
Shemale wartet, Seitensprung, Blowjob, Reife Milf wartet
Das ?x? in Sex: ein Chromosom regiert die Nacht!

Wünsche und Träume ganz anonym
Sehnsucht nach warmer Nähe
Wir suchen das, was wir nie haben werden
Die beschleunigte Selbstoffenbarung
Komm zu uns ins Dunkel!

Treff noch heute abend! Teilrasiert und gutbestückt.
Hi! Wer hat grade lust? Schick mir mail!
Wir suchen das, was wir nie haben werden
Dreier, Partys, Blowjob, Sandwich mit den Schönen der Nacht

Hotwild, Tittenmaus, Sweetlips, Susigöre, HornyBabe, Willige Gina
Das ?x? in Sex: ein Chromosom regiert die Nacht!


3: LOL & HDGDL, - ein Chatlexikon

?g? ?fg? ?bg? ?lol? / ?Rok? ?DwB? ?hea? ?sys? /
?ggg? ?rofl? ?gfg? ?Llolwech? / ?btw? ?Ptmm? ?afk? ?Knubu?

?g? = Grinsen, ?fg? = fettes Grinsen, ?bg? = breites Grinsen, ?lol? = laughing out loud

?Rok? = real online kiss, ?DwB? = dumm wie Brot, ?hea? = hau endlich ab, ?sys? = see you soon

?ggg? = giggeling, kichern, ?rofl? =rolling in floor, laughing, ?gfg? = ganz freches Grinsen, ?Llolwech? = ich schmeiss mich weg vor Lachen

?btw? = by the way, übrigens, ?Ptmm? = please tell me more, ?afk? = away from the keyboard, ?Knubu? = Knuddelbussi, heftige Begrüßung

Coda:
HDGL = ?Hab dich ganz doll lieb?
Fubak = ?Furchtbar böse den Ar...vollkriegen?
?bullshit? = bs bs bs bs bs bs bs bs bs bs bs bs bs bs bs bs bs bs bs bs bs


4: Ballade vom Männerabend
Redbull: N?abend alle!
Tattooman: Mal Bock auf?en Männerabend mit Kai und Lars?
Redbull: Klar! Mit Bier und Pornos!
Tattooman: Bier is noch im Keller, und Porns könnten wir auch aufn Beamer legen.
(Mietzekatze has joined IRC)
Mietzekatze: Hallo Jungs! Knubu rok bg
Tattooman: Naja, gibt der boon mir voll den Headi durch die Wall. Voll der Luckshot!
Redbull: Hat ich auch mal, aber das Cheaterkind hat Wallhack benutzt.
Wurd auch gleich gekickt.
Tattooman: So Typen in der ESL wird?s nie geben.
Mietzekatze: Ach, ihr labert nur über counterstrike....sys
(Mietzekatze has quit IRC)
Redbull: So... was meinst du nun: Beamer oder Fernseher
Tattooman: Beamer kommt geiler!


5: Highspeedcyberdating

Cyberlove ? Cybertouch ? Cyberkiss ?Cyberquatsch
Morf ? Sg ? Bagmo ? bab
(male or female / Schweinegrunz / Baby give more / Bussi aufs Bauchi)
Morf ? Sg ? Bagmo ? bab
Cyberlove ? Cybertouch ? Cyberkiss ?Cyberquatsch

- Soziologische Relevanz der virtuellen Kommunikation
- Prinzip der höchsten Eingabegeschwindigkeit als Norm des Chat
- Kontrollverluste durch ?Time-lags? beim Gesprächsverlauf

Nick1: Hiiiiiiiiiiii bg
Nick2: Was mit channel kick hat er gesagt
Nick3: Mom kommt später
Nick4: LOL gggggggggggggg
Nick1: Ach so!
Nick2: Voll Psycho, die hat noch gezuckt!
Nick3: Fetter Popel
Nick4: ggggggggg rot ist nicht grün
Nick1: zwickt mich in po und klaut bärchiwurst
Nick2: ............................rofl....grmpf

Cyberlove ? Cybertouch ? Cyberkiss ?Cyberquatsch
Morf ? Sg ? Bagmo ? bab
Coda:
Cyberlove, cyberlove
Rofl grmpf rofl grmpf
g hdl snafu (grins / hab dich lieb / situation normal all fucked up)
Rofl grmpf rofl grmpf
g hdl snafu

?Das Leben ist Scheisse, aber die Grafik ist geil!?
Dedication: Dedicated to the 'Singphoniker'.
World premiere: 09.05.2010