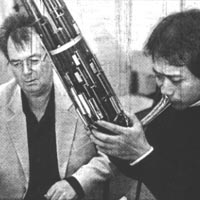 Update Required
To play the media you will need to either update your browser to a recent version or update your
Flash plugin
.
Category: Symphonic / Orchestral
Movements: 1: 'Tschen (thethunder)'
2: 'Kan (the water)'
3: 'Touei (the sea)'
Duration: 35:00 (14:00 / 09:00 / 12:00)
Publisher of notes/sheet music: Schott Musik International , Available for rent , 2001
Instrumentation: Picc. 2 Fl. 2 Ob., Cor a. 2 clar. (B) bass clar. 3 bas. 4 Hr. 3 Trp. (B) 2 Tros. bass tro. bass tuba kettledrum 2 percuss. harp. strings (16-14-12-10-8) and sheng (mouth organ)
Text/Lyrics by: Dedicated to the soloist Wu Wei
Introduction: The three movements correspond to the well-known eight triagrammes ofthe 'I Ching' (the Book of Changes): TSCHEN is the awaker, the thunder, carrying the characteristics of provocativeness, ferociousness and impetuousness. KAN meaning 'depth' or the 'abyss' is the image for water that corresponds to the moon, to melancholy and to all things that are secret and hard to understand. (consequently, this movement is based on a 12-tone-series and displaces mirrir-symmetrical rhythms). TOUEI stands for pleasure, friends, happiness, serene calmness, where the image of the lake serves as metaphor.

It is not intended that 'Changes' correspsonds to Asian rhythmic and melodic standards; the tonal material rather stays within the conventions of western music. The bridge connecting western and Chinese music results from the assignment of the sheng - one of the oldest musical instruments. Ther Berlin-residing sheng virtuoso Wu Wei, for whom this work was composed, masters his solo part with amazing muiscality.
World premiere: 03.09.2003, Ruhrfestspielhaus Recklinghausen, (= 5th Symphony concert 2002/3), additional performances on the 10th,11th,12th of March at the 'Musiktheater Gelsenkirchen' and Concert auditorium Kamen
Performers at world premiere: Wu Wei (Sheng) / Westfalen New Philharmonic Orchestra, direction: general music director Samuel Bächli
Press reviews for world premiere: WAZ West German Newspaper / Gelsenkirchen (12.3.2003): This was the surprise in the symphinic annual cycle: In the 5th concert of the new philharmonic concert hall a premiere of Enjott Schneider - 'Changes' for Sheng and orchestra. The soloist was the highly virtuoso Chinese Wu Wei. Asian music hits with European tradition. This is the starting point Schneider. His opera 'The Salome Principle' became a hit - in the past season and the piece which he wrote for the artist living in Berlin.... Schneider demonstrates this with high sensitivity because he does not imitate Far Eastern pentatonics or symphonically done up folklore. He writes a European sound work in which he accommodates even a 12-sound row. Everybody hears it, nobody notices it.... Behind these premieres the remaining works, everybody of the big occupation dedicated, in the second limb moved.


Records: CD series of the 'Musikhochschle München' Volume 45, 2006
Performers on recording: WuWei/Sheng and the Munich 'Symphoniker', cond.: Heiko Matthias Förster, Live recording from the Herkules-Saal in Munich