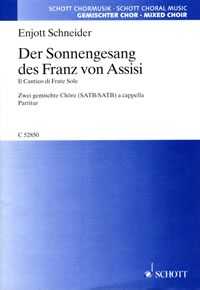 Update Required
To play the media you will need to either update your browser to a recent version or update your
Flash plugin
.
Category: Choir / Vocal , Organ / Sacred Music , Recordings
CANTICO DELLE CREATURE written in 13th century by Francesco D'Assisi is not only a famous prayer and a thankyou for the divine creation, but also a early testimony of world literature and (written in umbrian language) the beginning of italian literature. Composed for two choirs with eight voices. The CANTICLE OF THE SUN was commissioned in german language by REGENSBURGER DOMSPATZEN, the oldest Cathedral Boy Choir in music history.
Duration: 8-9 Minutes
Publisher of notes/sheet music: Schott Music , C 52850 , 2008
Instrumentation: Two choirs (each s/a/t/b)
with ranges:
Soprano: c1 / g2
Alto: g / d2
Tenor: c / g1
Bass: E / c1
Text/Lyrics by: Francis of Assisi (1181-1226), dt. von Leonhard Lehmann OFM cap
Introduction: Francis of Assisi (um 1181 ? 1226) was the most poetic of all holy people, an ecstatic troubadour of God. His canticle 'Il cantico di frate sole' was written in winter 12224/1225 in the old Italian language, as he lay dying in his hut in San Damiano. The Verse of Peace was added later (in order to smooth over an argument between the bishop and citizens of Assisi). Shortly before his death, the verse 'Dead Sister' ('Sore nostra Morte corporale') was added.
The canticle of the sun belongs to world literature because of its poetic form and meaning and influenced the start of Italian poetry. It has been inspiring people for hundreds of years and has built a bridge between Christianity and other cultures. Peter L. Lehmann: "The prayer is not only a hymn to God's creation but influenced our behaviour towards sickness and death. The 33 lines are arranged into 10 verses; introductory and final verses with eight in between. This address lifts 'the lullaby of the Italian language' unambiguously after a bare physical mysticism and it represents Christian creation .

The setting of the canticle tries with ease to remember refrain which is integrated, nevertheless, into artificial surroundings to catch the popluarity of the original. Therefore, avant-garde choral technologies of the newer music was to be renounced categorically (although whisper or cluster chords appear sometimes).
The ound of Old-Italian songs (as they are to be heard even today in Sardinia and Corsica) with her long boron flocks, chords and parallel guidances are much more inspiring.
Dedication: Dedicated to Roland Büchner and the Regensburg Domspatzen (Regensburg Cathedral boys choir)
Additional remarks: Canticle of the Sun text
German by Leonhard Lehmann OFM cap (with the permission of the author) in: L. Lehmann (Hg.) 'Das Erbe eines Armen. Franziskus-Schriften',
2003 Verlagsgemeinschaft Topos Plus, Kevelaer

Altissimo, onnipotente, bon Signore,
tue so le laude, la gloria
e l?onnore e onne benedizione

Höchster, allmächtiger, guter Herr,
dein sind der Lobpreis, die Herrlichkeit und die Ehre
und jeglicher Segen.
Dir allein, Höchster, gebühren sie,
und kein Mensch ist würdig, dich zu nennen.

Gelobt seist du, mein Herr,
mit allen deinen Geschöpfen,
zumal dem Herrn Bruder Sonne,
er ist der Tag, und du spendest uns Licht durch ihn.
Und schön ist er und strahlend in großem Glanz,
dein Sinnbild, o Höchster.

Gelobt seist du, mein Herr,
durch Schwester Mond und die Sterne;
am Himmel hast du sie gebildet,
hell leuchtend, kostbar und schön.

Gelobt seist du, mein Herr,
durch Bruder Wind und durch Luft und Wolken
und heiteres und jegliches Wetter.
Durch das du deinen Geschöpfen Unterhalt gibst.

Gelobt seist du, mein Herr,
durch Bruder Feuer,
durch das du uns die Nacht erleuchtest;
und schön ist es und liebenswürdig
und kraftvoll und stark.

Gelobt seist du, mein Herr,
durch Schwester Wasser,
gar nützlich ist es und demütig
und kostbar und keusch.

Gelobt seist du, mein Herr,
durch unsere Schwester, Mutter Erde,
die uns ernährt und lenkt
und vielfältige Früchte vorbringt
und bunte Blumen und Kräuter.




Gelobt seist du, mein Herr,
durch jene, die verzeihen um deiner Liebe willen
und Krankheit ertragen und Drangsal.
Selig sind jene, die solches ertragen in Frieden,
denn von dir, Höchster, werden sie gekrönt werden.

Gelobt seist du, mein Herr,
durch unsere Schwester, den leiblichen Tod;
ihm kann kein Mensch lebend entrinnen.
Wehe jenen, die in schwerer Sünde sterben.
Selig sind jene, die sich in deinem heiligsten Willen finden,
denn der zweite Tod wird ihnen kein Leid antun.

Lobt und preist meinen Herrn
und sagt ihm Dank und dient ihm mit großer Demut.
World premiere: 03.06.2008, Abteikirche Imkamana South Africa
Performers at world premiere: Regensburg Domspatzen (Regensburg Cathedral boys choir, conducted by Roland Büchner

German world premiere: Regensburg Cathedral on 25.7.2008 with the boys choir of the Regensburg Cathedral, conducted by Roland Büchner
Press reviews for world premiere: In a letter from Dr. Gerhard Ludwig Müller, bishop of Regensburg on 29.8.2008: Your 'Canticle of the Sun' is the experience of a relationship with God. It can be felt how your sound language drew the audience and young singers into Francis of Assisi's life, thoughts and belief.

An article about the German second performance on 26.7.2008 at the Burghofspielen in Eltville:
The 8-voices choral work turns out an attractive setting of the old text with clearly contemporary colours without threshing the phrasing. On the contrary: A challenging and listener friendly piece has been created from the combination of alo Latin songs, whispering passages and catiously inserted clusters. The Regensburger cathedral 'spatzen' interpreted their piece with dedication and strength of sound.'
(Daniel Honsack/Wiesbadener Kurier)


Schwäbische Zeitung on the 14.10.2008 about the concert of the Regensburg Cathedral 'spatzen' choir in the vineyard basilica on the 12th of October: FRANCIS of ASSISI'S 'Canticle of the Sun' IS A GREAT PLEASURE... tied up with a spectrum of sound which started with the whisper of Old-Italian words and which fanned itself out into assonances, for which the cohesion of returning rhythms, belongs to a beguiling urgency verse 'Promise you are, my man'. (Babette Caesar).



Nürnberger Nachrichten on the 10/13/2008 BREATHY CANTICLE OF THE SUN...The original language, which is difficult to translate, shines through. Schneider makes clear the fact that all eulogies of the natural phenomena are rooted in her creator, while building up every verse on long pulled out 'Herrn' as an organ point in every stanza. To keep this up, the more mature singers need below a long, long breath (Reinhard Kalb).
Records: CD LAUDATO SI' at ambiente audio ACD-3034 Sacred Music Series Volume 13, 2015
Performers on recording: There are two CDs: In december 2015 released at Ambiente Audio the CD LAUDATO SI' - MUSIK AUS REGENSBURG with the SONNENGESANG (Regensburger Domspatzen). There is a former CD from 2008 named "SONNENGESANG. Die Regensburger Domspatzen", conducted by Roland Büchner
Performed 24.7.2008 Regensburg.
The CD SONNENGESANG contains chorale works by Orlando di Lasso, Maurice Duruflé, Felix Mendelssohn, Johann Eccard and more.