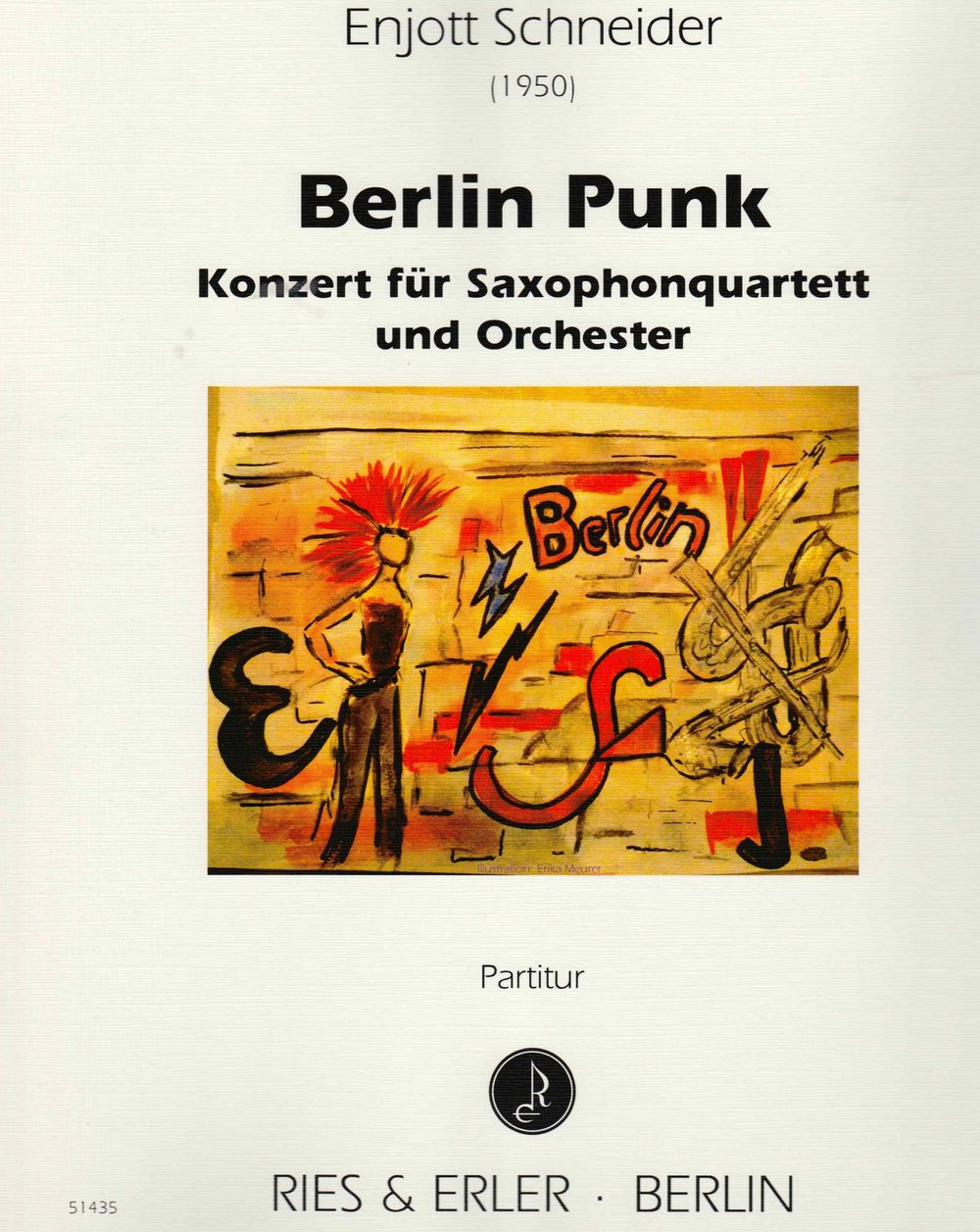 Update Required
To play the media you will need to either update your browser to a recent version or update your
Flash plugin
.
Category: Symphonic / Orchestral
Modern music, Avantgarde, experimentell, wacky effects of orchestration... combined with the esthetics of PUNK: four saxophones with wild, cool, lyrical and aggressiv passages, - Soli and a homogenious Quartet-Sound alternating with an orchestra, that beats beyond severity! And in the background we feel the international PUNK-Metropole Berlin, where you can find – for example at Alexanderplatz – the smell of hard drug scene and the yearning for love.
Movements: 1: Spiked Saxes
2: Moon over Alexanderplatz (...we won't let you alone)
3: Police Rats (...chasing after cops)
4: Toxic Love (...about suicide Susie from Kreuzberg)
5: Fun-Punk (...schizo gaudily colored)
Duration: 20 minutes --------------------------
Publisher of notes/sheet music: Ries & Erler Berlin , 2016
Instrumentation: Orchestration:
2 flutes(2nd also Piccolo)
2 oboes (2nd also English horn)
clarinet
bass clarinet
bassoon
contrabassoon
4 horns
2 trumpets
3 trombones (T T B)
keyboard (piano sound, diverse electronic sounds, guitar sounds)
kettledrum
drums 1+2
large string orchestra
Solo instruments: Saxophon
Introduction: BERLIN PUNK. Concert for saxophone quartet and orchestra
1: Spiked Saxes
2: Moon over Alexanderplatz (...we won't let you alone)
3: Police Rats (...chasing after cops)
4: Toxic Love (...about suicide Susie from Kreuzberg)
5: Fun-Punk (...schizo gaudily colored)

"Punk" as an expression for rotten wood, garbage, filth and something worthless has a long history and already described the prostitute in Shakespeare's "Measure for Measure" (1596), has also described the lowest scum in the homosexual scene for a long time, the so-called cocksucker mentality. The punk music was created as glaring, fast, loud and aggressively straightforward Rock'n'Roll ("only three chordals") in New York (first band "Ramones") and London ("Sex Pistols") in the mid-70s. Cultivation of the overdriven, the unmodulated pureness. Antibourgeois shock and provocation as aesthetic beacon. Iggy Pop and Lou Reed were also early pioneers. --------------------------------------------------
Moreover, "Punk" was rather a sense of life than a determined style of music: subculture, anarchy, destructive rejection of bourgeois values and any future vision ("No future!") were responses to urban desolation. Piercings with needles, spiked hairstyle ("spikes"), ripped t-shirt or string vest with a leather jacket full of studs and emblems became trademarks. Parallel to alcohol and drugs a self-destruction happened, which covered all ups and downs of human life by schizophrenia and suicidal behavior: some sort of radicalized existentialism. When the Hanoverian police created flashcards for punks and skinheads in the 80s, so called "Chaos Days" were consistently held against it.
----------------------------------------
Like no other city, Berlin offered the humus for the culture and music of punk with its cityscape shaped by its ugly cracks ('the Wall") and extremes. Such useless areas beyond any logic of utilization, abandoned areas, remnants of the Wall, industrial ruins and visible wounds of a Bomb World War could and can only be found here. In February 1977 the first punk concert took place in the Kant Cinema with the "Vibrators". This new awareness of life spread like a wildfire - especially in Kreuzberg, then after 1989 also in the east. Maik Mertens (in Ox-Fancine 2003) described : "an era of German underground culture arose, whose importance should not be underestimated. Here in Berlin, however, everything happened faster and tougher than elsewhere. Berlin had... the most insane groups, the most ingenious ideas, the most extreme texts, the heaviest drugs, most of the clubs, the best audience and of course also the most broken audience... of course Punk has always been present in Berlin after 1989. If you add all shades and mutations of Punk, this style is probably more present today than ever in Berlin. Nevertheless, such an active, united and unique scene as between 1977 and 1989 is difficult to be repeated again, neither in Berlin nor elsewhere".
--------
The names of the Punk Rock groups already speak for themselves: BetonTod (literally meaning: Death of Concrete), Stromsperre (literally meaning: power cut), Abstürzende Brieftauben (literally meaning: falling carrier pigeon), Terrorgruppe (literally meaning: terror group), Die Ärzte, The Erections, Toxpack. Nina Hagen, the "Godmother of Punk" born in East Berlin, became a dazzling figure, who led over to the "Neue Deutsche Welle" (German new wave) and was culturally diverse (from spirituality, discussion about extraterrestrial intelligence to unpredictable aggression). In 1979 she was involved in the first punk scandal when she demonstrated her masturbation techniques in Club 2 of the ORF and gained the reputation as "media terrorist", which she maintained by many further provocations.
-----------
In terms of music "Punk" became very inconsistent and touches many other styles like metal rock, Gothic culture and the Batcave scene. Elemental is the deliberately enacted dilettantism, the anti-commercial and anti-professional, the Do-it-yourself (own production, own sales), the desire for the ugly and broken. The outfit of the Punk has also been evolved in fashion: Paul Gaultier, for example, incorporated important impulses and opened the doors of the Parisian haute couture to the Punk. This is almost a mockery if you think about the origin of the Punk, which came from the lowest classes, from life on the streets.
---------------------------------------------------------
My composition BERLIN PUNK is not an imitation of Punk music, but attempts to express the awareness of life and characteristics of the "Punk" by means of a transposition into the symphonic language. Simple and easy-going, obliged to an aesthetic of the ugly as well as to the musical garbage, sometimes gaudily colored oversubscribing funky love of life, but also - in the quieter parts - mediating something from the question marks and the desire for warmth. "I just want that you love me", was the title of a touching movie of Rainer Werner Fassbinder, who was a real soulmate of the punk. The saxophone - and more excessive: four saxophones! with their extreme types of tones are able to capture this torn variety of moods: hard, loud, dirty, flippant, aggressive, lyric, poetic, full of desire... this is the impressive scale of emotions which is radically implemented by a top ensemble like the Berlin Saxophone Quartet CLAIR-OBSCUR.
Dedication: Warmly dedicated to the Berlin Saxophone Quartet CLAIR-OBSCUR
World premiere: 22.02.2017, Minden
Performers at world premiere: World Premiere:
February 22, 2017 in Minden with CLAIR-OBSCURE, Northwest German Philharmonic Orchestra, conducted by Yves Abel (the 5th Symphony of Sergei Prokofieff is also plaid in the program). Immediate consecutive concerts in Herford, Bad Oynhausen, Detmold, Paderborn and Gütersloh.