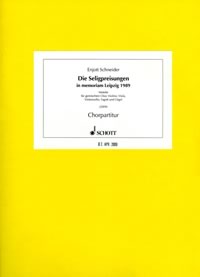 Update Required
To play the media you will need to either update your browser to a recent version or update your
Flash plugin
.
Category: Choir / Vocal , Organ / Sacred Music
Movements: Movement 1: In distress
Movement 2: Mercy
Movement 3: Hope
Duration: 13 (4:20 / 3:30 / 4:50)
Publisher of notes/sheet music: Schott Music , 1999
Instrumentation: Motet for choir, violin, viola, cello, bassoon, organ (strings can be performed by soloists but also by an orchestra)


Solo instruments: Bassoon
Text/Lyrics by: The Gospel according to Matthew, chapter 5/3-12, translated by Martin Luther
Introduction: The composition was commissioned by the Nikolai Church in Leipzig for the 20th anniversary of the peaceful revolution in Laipzig on the 9th of October 1989.

Of great help to me with this composition was the work I did on the soundtrack for the film "The Miracle of Leipzig. We are the people" (broadview - TV Cologne with MDR and ARTE) from autumn 2008 until the recording on the 11th of January 2009, during which time I was confronted with pictures from 1989 and was plunged into the history of the time. Some motifs from the soundtrack were worked into the choral work, a fact that enhances its effect and expressiveness.





Dedication: Dedicated to the 20th anniversary of the peaceful revolution in East Germany
World premiere: 10.09.2009, Nikolai Church Leipzig
Performers at world premiere: World premiere as part of the Prayer of Peace at the Nikolai Church in Leipzig on 9th October 2009 with the Nikolai Church Leipzig Bach Choir, conducted by Jürgen Wolf