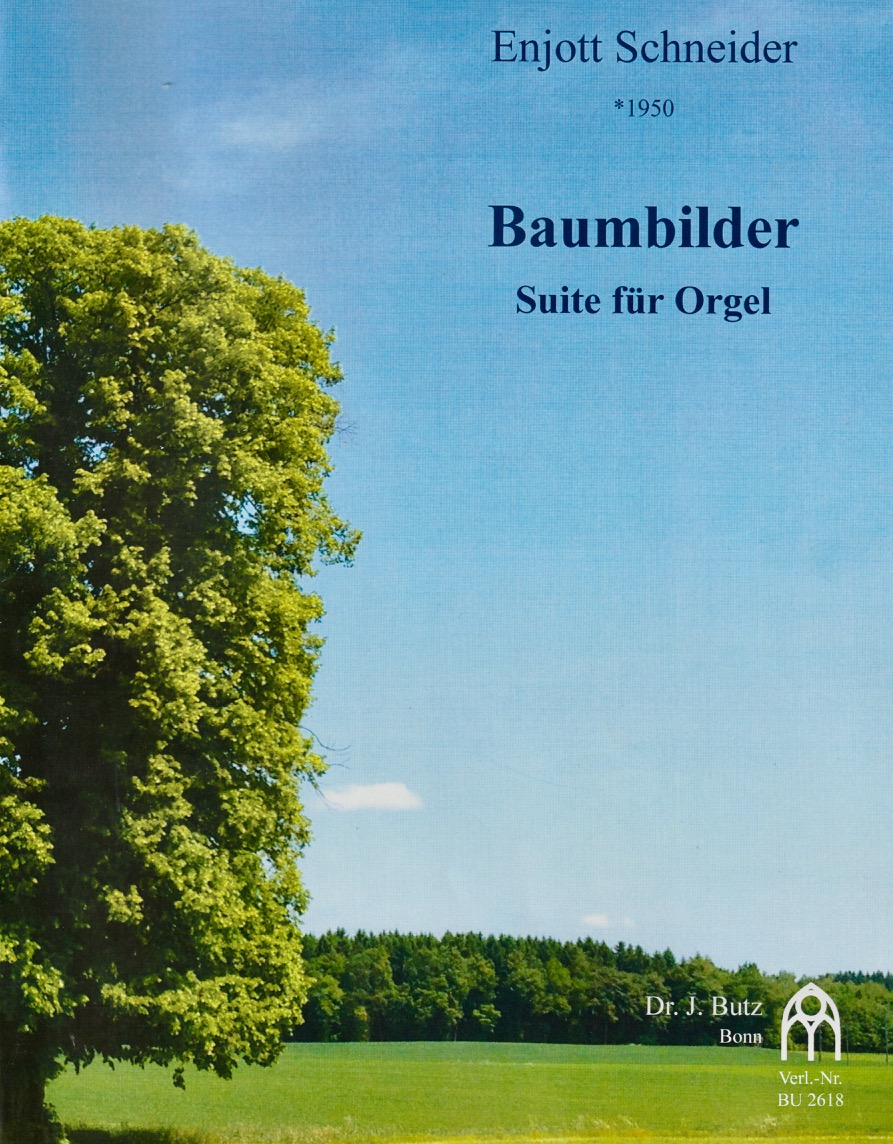 Update Required
To play the media you will need to either update your browser to a recent version or update your
Flash plugin
.
Category: Organ / Sacred Music
Trees are personified forces of the earth. For centuries they have been the subject of song, adoration, immortalisation in stories, myths, and fairy tales, as well as the use as a medical remedy. Every tree represents and individual psychological being in the context of an archetype. This is reflected clearly in the silhouette of the tree, the shape of the leaves, the structure of the bark, the energy potential of the growth of the tree, as well as the shape of the tree's fruit. Those characteristics are very similar to those of the human psychology.
Movements: 1: BIRKE – der schöpferische Frühling (BIRCH TREE - the creative spring)
2: ULME – die Zuversicht (ELM TREE - the confidence)
3: APFELBAUM – die Liebe (APPLE TREE - the love)
4: TANNE – das Geheimnis (FIR TREE - the secret)
5: ZYPRESSE – Schatten des Todes (CYPRESS - shadow of death)
6: WEIDE – die Trauer (WILLOW - the grief)
7: EBERESCHE - Feingefühl und Glück (ROWAN TREE - sensitiveness and luck)

The cycle can be played as a whole or as an individual compilation of 2-4 movements. Degree of difficulty: easy to medium.
Duration: 18 minutes
Publisher of notes/sheet music: Dr. J. Butz-Verlag Cologne-Bonn , BU 2618 , 2014
Instrumentation: Organ with at least two manuals and pedal
The provided specifications are only suggestions: in principle, every interpreter is supposed to find out independently how best to use his / her instrument to represent the character of a tree.
Introduction: If there is one single element that combines all religions of the world and is a clear reflection of God, it has to be the element of 'creation', - the harmony of the cosmos and nature with all of its marvels, such as mountains, the sea, oceans, fauna, and flora. One of the elements of 'creation' people feel a special connection with relates to the trees, - standing upright like a human being, full of wisdom and the experience from hundreds of years.
Trees are personified forces of the earth. For centuries they have been the subject of song, adoration, immortalisation in stories, myths, and fairy tales, as well as the use as a medical remedy. Every tree represents and individual psychological being in the context of an archetype. This is reflected clearly in the silhouette of the tree, the shape of the leaves, the structure of the bark, the energy potential of the growth of the tree, as well as the shape of the tree's fruit. Those characteristics are very similar to those of the human psychology. This also applies to the Celtic tree calendar in which certain time periods correspond to certain tree principles.
The trees of the seven movements of this suite for organ embody the following properties in accordance with the Celtic tree calendar:

1: BIRKE – der schöpferische Frühling (BIRCH TREE - the creative spring)
24th of June: lively rise - mild/beautiful/modestly graceful - persona of a girl

2: ULME – die Zuversicht (ELM TREE - the confidence)
12th of January – 24th of January and 15th of July – 24th of July: awake – good disposition – loves ideals and justice

3: APFELBAUM – die Liebe (APPLE TREE - the love)
23rd of December – 1st of January and 25th of June – 4th of July: awareness and love - combining good and evil - sensual

4: TANNE – das Geheimnis (FIR TREE - the secret)
2nd of January – 11th of January and 5th of July – 14th of July: cold, closed – bitter – tree of the light

5: ZYPRESSE – Schatten des Todes (CYPRESS - shadow of death)
25th of January – 3rd of February and 26th of July – 4th of August: death and resurrection – immortality – demanding

6: WEIDE – die Trauer (WILLOW - the grief)
29th of February/1st of March – 10th of March and 3rd of September – 12th of September: melancholic – magically nocturnal – intuitive – moon

7: EBERESCHE - Feingefühl und Glück (ROWAN TREE - sensitiveness and luck)
1st of April – 10th of April and 4th of October – 13th of October: mild but persistent – grace – rooted pioneer – tree of the mystics
Dedication: Cordially dedicated to Prof. Stefan Baier (Regensburg)
World premiere: 24.01.2014, Concert hall of the 'Musikhochschule Regensburg'
Performers at world premiere: Stefan Baier (organ) during the TAGE DER NEUEN MUSIK (days of new music) in Regensburg