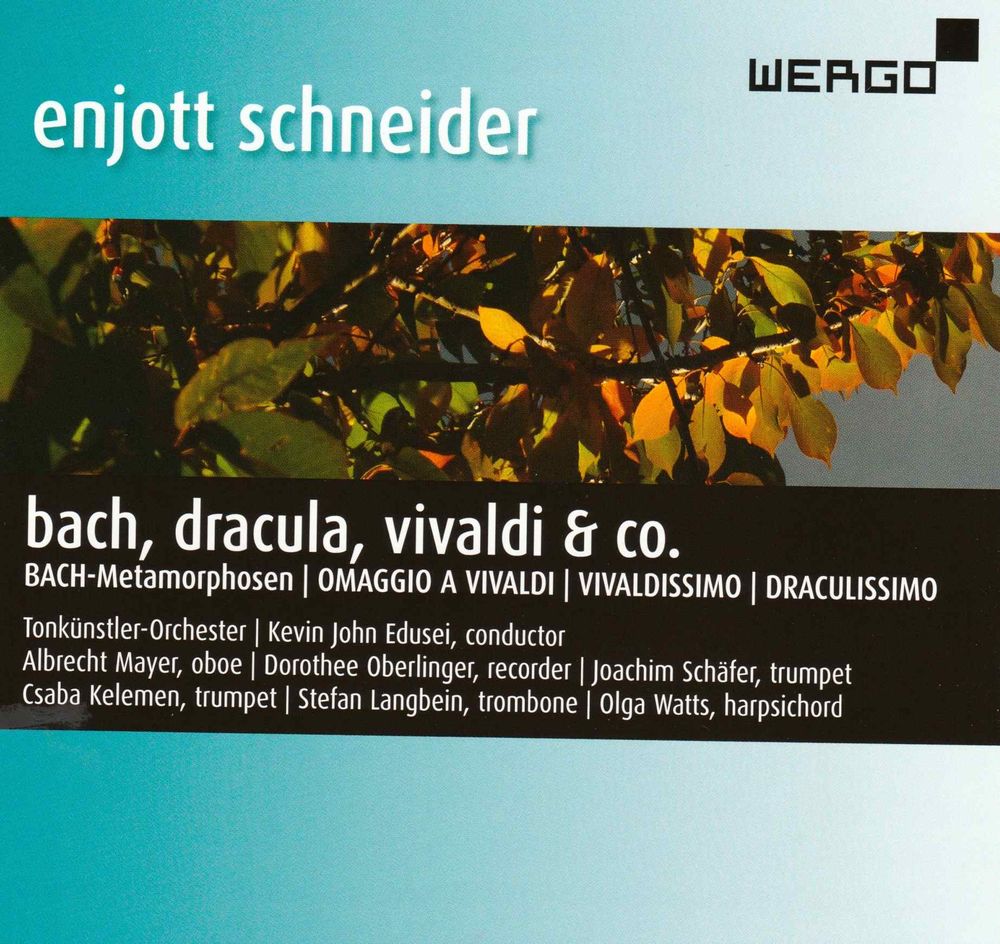 Update Required
To play the media you will need to either update your browser to a recent version or update your
Flash plugin
.
Category: Symphonic / Orchestral , Chamber Music , Recordings
Concertante, virtuoso, always with esprit and oddly cheeky are this encounters with the esteemed baroque colleagues J.S.Bach and A. Vivaldi... From the historical Dracula "Vlad the Impaler" we have no musical traditions, but a lot of spooky and horrific tales... enough for some surrealistic musical descriptions
Introduction: Bach, Dracula, Vivaldi & Co
BACH metamorphoses / Omaggio a Vivaldi /
Vivaldissimo / Concerto grosso Draculissimo

Tonkünstler Orchestra / Kevin John Edusei, conductor
Albrecht Mayer, oboe / Dorothee Oberlinger, recorder/
J. Schäfer + C. Kelemen, trumpets, / S. Langbein, trombone

Works:
CONCERTO BACH METAMORPHOSES
for oboe, strings and harpsichord
1: Allegro
2: Adagio sopra "Lord, our leader"
3: Vivace non troppo
Albrecht Mayer (oboe)
Albrecht Mayer appears by courtesy of Deutsche Grammophon Gesellschaft (German Society of Gramophone)

OMAGGIO A VIVALDI.
concert for recorder, strings and harpsichord
1: L'Annina del prete rosso
2: L'ombre, l'aure e ancora il rio
3: Aldiviva: Teatro alla moda
Dorothee Oberlinger (recorder)

VIVALDISSIMO. Concert for 2 trumpets, strings and harpsichord
1: Allegro
2: Adagio
3: Vivo
Joachim Schäfer, Csaba Kelemen (trumpets)

DRACULISSIMO. Concerto grosso for trumpets, trombone & ensemble
1: Vlad Dracul: Oderint dum metvant
2: Luna su Tirgoviste
3: Il ballo transilvano
4: Bacio di sangue
Joachim Schäfer (trumpet), Stefan Langbein (trombone)

Tonkünstler Orchestra Austria
Conductor: Kevin John Edusei
Cembalo: Olga Watts

Recording: Auditorium Grafenegg Castle from September 14 to 19, 2015
Sound equipment: PEGASUS MUSIC PRODUCTION Florian B. Schmidt & Aki Matusch

Music editions: 1-3 Strube Verlag Munich (publisher) / 4-13 Schott-Music
Additional remarks: This CD-production was selected to be named on the cover of the JPC magazine in July 2016 and qualified Enjott Schneider as "Artist of the Month"/classical music.