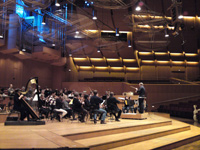 Update Required
To play the media you will need to either update your browser to a recent version or update your
Flash plugin
.
Category: Symphonic / Orchestral
Narrative Variations about the famous REQUIEM d-minor of W.A.Mozart... ending with the LACRIMOSA, the last part that Mozart composed alone by himself... and here also the orchestra is dying with a noisefull expiring Pianissimo: We feel to be at the edge of time!
Movements: AT THE EDGE OF TIME. REFLECTIONS ON MOZARTS REQUIEM KV 626 came into being as a tribute in Mozart's year 2006: An emotional braiding originates from motifs and patterns of Mozart's Requiem, melodically held together by the soloistic English horn, the traditional instrument of death and the afterlife. A furioso middle part, inspired in rhythm and motif by the 'Dies irae', leads in great escalation with a strange and existentially concussive sound-agglomeration to sudden silence and into nothingness: over a long pedal point the music trembles once more and cites Mozart's 'Lacrimosa' — exactly as outstretched and fragmental as the last surviving work preserved in his handwriting. Thereafter, he dies: one could sense something of the BRINK OF TIME. Material on loan at Schott Music.
Duration: 18 Minuten
Instrumentation: Cast:

2 flutes (2. also Piccolo)
oboe
English horn
2 clarinets (B)
bassoon
contra bassoon
4 horns (F)
2 trumpet (B)
3 trombone (T-T-B)
harp
kettledrum
percussion (1 musician with: triangle, cymbal, tam tam,
bass drum, snare drum

large string section: 16-14-12-10-8
Introduction: The orchestra piecer AT THE EDGE OF TIME was played several times - from the 1st Premiere in Bacau/Romenia to the Munich Philharmonic Hall. 2012 also in the opening concert of BEIJING MODERN FESTIVAL 2012. The NCPA-Orchestra (orchestra of National Center Performing Arts) today one of the leading orchestras in China was conducted by Lu JIA. - There is also a Version for Organo Solo, which was reorded for CD on my SACRED MUSIC SERIE at Label Ambiente Audio with Jürgen Geiger on the 4 organs of Cathedral in Freiburg i:b. (Germany). A orchestral recording was published 2014 at Label WERGO with Tonkünstler Orchester in Austria, conducted by Xincao LI.
Dedication: dedicated to Johannes Skudlik in friendship
World premiere: 02.09.2006, Bacau Rumänien
Performers at world premiere: Romanian State Philharmonic
Conducted by Johannes Skudlik