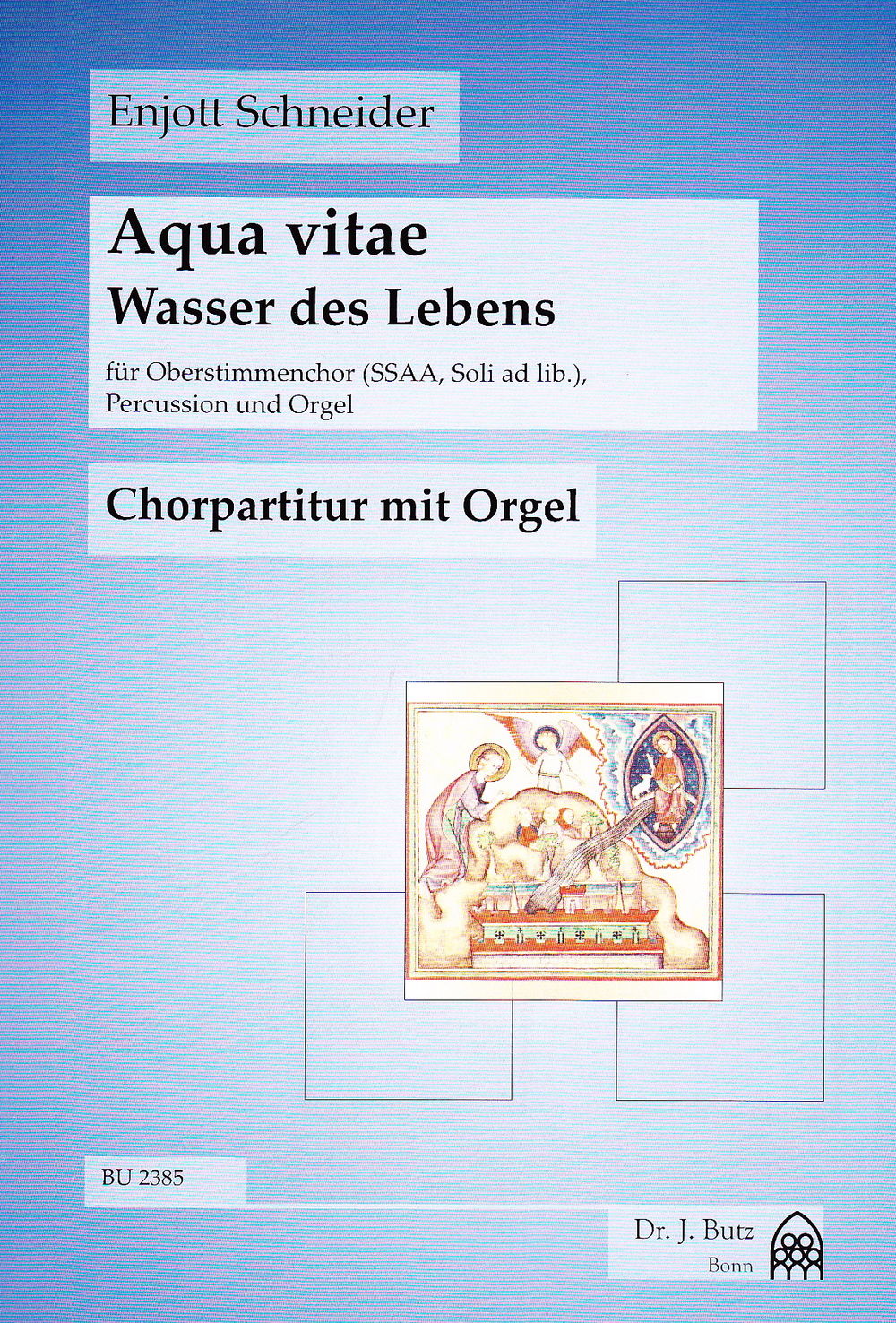 Update Required
To play the media you will need to either update your browser to a recent version or update your
Flash plugin
.
Category: Choir / Vocal , Organ / Sacred Music
Movements: 1: ECCE 2: ALPHA ET OMEGA 3: FLUVIUM AQUA VITAE
Duration: 8
Publisher of notes/sheet music: Dr.J.Butz-Music publisher , BU 2385 , 2010
Instrumentation: high voices (girl, boy or women's choir) SSAA, Solo ad libitum, at least 2 manual-organ with pedal, metal sound with triangle, metal sticks, bells, sound bowls, hung up iron ad lib
Text/Lyrics by: after the apocalypse of John
Introduction: Text from the apocalypse by John cap. 22 / verse 1,12,13,17
Ecco venio cito et merces mea mecum est reddere unicuique secundum opera sua
(Siehe, ich komme bald, und mein Lohn mit mir, jedem zu geben nach seinen Werken)
Ego Alpha et Omega, primus et novissimus, principium et finis
(Ich bin das A und O, der Erste und der Letzte, der Anfang und das Ende)
Et ostendit mihi fluvium aquae vitae /splendidum tamquam cristallum
(und er zeigte einen lauteren Strom lebendigen Wassers klar wie Kristall)
Et Spiritus et sponsa dicunt veni / et qui audit dicat veni /
Et quit sitit veniat / qui vult accipiat aquam vitae gratis.
(Und der Geist und die Braut sprechen: Komm! / Und wer es hört, der spreche: Komm! /
und wen dürstet, der komme / und wer da will, der nehme das Wasser des Lebens umsonst)





Dedication: Dedicated to Frank Leenan and the female choir of the Rottenburg cathedral
World premiere: 17.07.2010, 19:30 Uhr, New minster church Würzburg as part of "ENDSPIEL. Würzburger Apokalypse 2010"
Performers at world premiere: Rottenburg cathedral female choir, direction: Frank Leenen
Cathedral organist Wolfram Rehfeldt
Press reviews for world premiere: Press review in German language only:
Rhein-Neckar-Zeitung vom 1.12.2010 ENGELSGESANG AUS MENSCHENMUND Schneiders Komposition "Aqua vitae" zu einzelnen Versen aus der Geheimen Offenbarung war geprägt von kristalliner Schönheit und Reinheit. Sanft in der Ferne zerfließende Laute setzten die Mädchen unter der brillianten Leitung von Frank Leenen mit einer Kühnheit in den Raum, die den Atem stocken ließ. am.