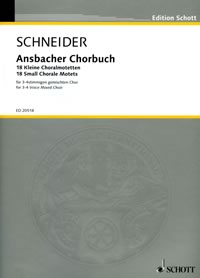 Update Required
To play the media you will need to either update your browser to a recent version or update your
Flash plugin
.
Category: Choir / Vocal , Organ / Sacred Music
Fitting to the ANSBACHER ORGELBÜCHLEIN - in tradition of Johann Sebastian Bach - you find here 18 choral motets a cappella: excellent models for new types of choral setting for students of church music and composers interested in modernd choir music.
Movements: 1 AGNUS DEI (Lamb of God)
Martin Luther 1528 (nach dem lat. Agnus Dei)
2 ALLEIN GOTT IN DER HÖH? SEI EHR
mittelalterlich, Nikolaus Decius 1522
3 AUS TIEFER NOT SCHREI ICH ZU DIR
Martin Luther 1524
4 BEFIEHL DU DEINE WEGE
Bartholomäus Gesius 1603
5 FRÖHLICH SOLL MEIN HERZE SPRINGEN
Johann Crüger 1653
6 HERR JESU CHRIST, DICH ZU UNS WEND
Gochsheim (Franken) 1628
7 HERZLIEBSTER JESU, WAS HAST DU VERBROCHEN
Genf 1543, Johann Crüger 1640
8 KOMM GOTT SCHÖPFER; HEILIGER GEIST
Martin Luther 1529, nach dem lat. Veni creator spiritus
9 KOMM, HEILIGER GEIST, HERRE GOTT
1524 Wittenberg (Martin Luther) nach ?Veni sancte spiritus?
10 NUN KOMM DER HEIDEN HEILAND
Martin Luther 1524, nach dem ambrosianischen ?Veni redemptor?
11 NUN SINGET UND SEID FROH
Wittenberg 1529, nach dem ?In dulci jubilo? (14. Jh.)
12 O HEILAND, REISS DIE HIMMEL AUF
Augsburg 1666
13 O LAMM GOTTES, UNSCHULDIG
Süddeutsche Fassung, Nikolaus Decius 1522/Erfurt 1542
14 SCHMÜCKE DICH, O LIEBE SEELE
Johann Crüger 1649
15 VON GOTT WILL ICH NICHT LASSEN
16. Jh., geistlich Erfurt 1563
16 WACHET AUF, RUFT UNS DIE STIMME
nach Hans Sachs 1513, von Philipp Nicolai 1599
17 WIE SOLL ICH DICH EMPFANGEN
Johann Crüger 1653
18 WIR DANKEN DIR, HERR JESU CHRIST
Nikolaus Hermann 1551/1560
Duration: 43 Minutes
Publisher of notes/sheet music: Schott Music GmbH , Ansbach Choir Book ED 20518 , 2009
Instrumentation: Chor a cappella
Introduction: The Ansbach Chorale Book is a collection of eighteen little chorale motets and chorale settings of melodies fram the German Lutheran hymnal. These vocal settings complement the eighteen chorale settings in the 'Ansbach Organ Book'
Intended for use in church services and little concert performances (perhaps in combination with the organ chorales), their level of difficulty is easy to intermediate.The collection includes some three-part settings with just a single male voice. Emphasis has generally been placed on stylistic range, demonstrating a variety of techniques used in contemporary choral writing (though omitting spoken and experimental vocal noises). They range fram simply harmonised chorale settings ('Herr Jesu Christ, dich zu uns wend') to ecstatic cluster syncopations ("Herz­ liebster Jesu, was hast du verbrochen"), fram ostinato bass ("Wie soll ich dich empfangen") to the two-part bicinium (" Von Gott will ich nicht lassen"), fram vocalise accompaniment ("A us tiefer Not") and atmospheric drane ("Nun singet und seidfroh") to meditative harmonies over a bass melody ("Komm Gott Schöpfer, heil'ger Geist''). Sounds produced by isolating syllables appear in 'Befiehl du deine Wege'.
Latin t exts have been added in several instances in order to point out the origins of the Protes­ tant chorale in the early history of Catholicism, for example in the "Agnus Dei", in "Allein Gott in der Höh' sei Ehr", in "Komm, Heilger Geist, Herre Gott" or in "Nun singet und seid froh".
Dedication: Dedicated to chief lector Dr. Rainer Mohrs of Schott-Music
World premiere: 09.02.2010, St.Gumbertus Ansbach
Performers at world premiere: Ansbach chamber choir
Conducted by Rainer Goede
Records: Mitra Classics, 2008
Performers on recording: Title:
ANSBACH ORGAN BOOKLET - ANSBACH CHOIR BOOK
Ansbach chamber choir
Rainer Goede on the Wiegleb-organ in the Church of St. Gumbertus in Ansbach

Order number:
MITRA CD 16415