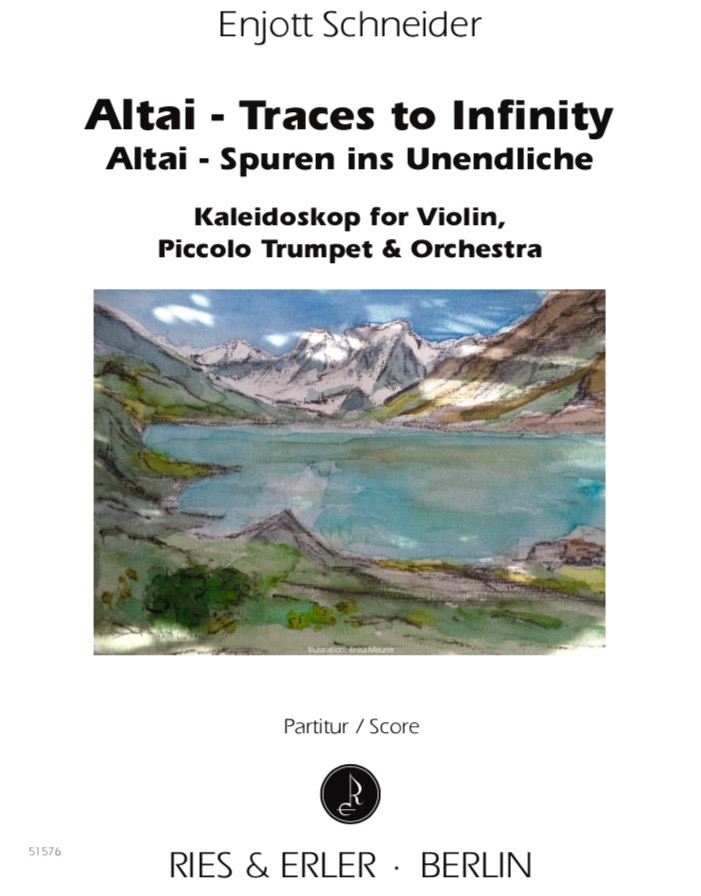 Update Required
To play the media you will need to either update your browser to a recent version or update your
Flash plugin
.
Category: Symphonic / Orchestral
Novum in music history, - a symphonic concerto for solo violin and piccolo trumpet. ALTAI - TRACES TO INFINITY is inspired by the infinite vastness and beauty of Kazakhstan and its eastern border towards Mongolia, China and Siberia. ALTAI is a unique natural wonder full of myths.
All impressions strongly taken from the essence of Kazakhstan (such as "Weite", "Pferderitt" or "Adlerflug") are arranged as a "kaleidoscope": a dazzling variety of moods. Recommended: the CD recording on the SOLO MUSICA label (from January 2023) with Reinhold Friedrich (piccolo trumpet) and Gregory Assh (violin).
Movements: 1: Endlessness of Montains
2: Horse ride & Eagle Flight
3: Moon over Belukha Mountain
4: Rondo – Finale
Duration: 22 Minutes
Publisher of notes/sheet music: , 2019
Instrumentation: Orchestration:
Flute 1+2 I(2nd also Piccolo)
Oboe 1+2 (2nd also English Horn)
Clarinet 1+2 in Bb (2nd also Bass Clarinet in Bb)
Bassoon 1+2
French Horns 1-3 in F
Timpani
Percussion I (Triangle, Tamtam, metal chimes, large Bass Drum, small Tomtom)
Percussion II (Triangle, Glockenspiel, Vibraphone, 3 cymbals hanging, woodblock, hand drum (on a stand), snare drum)
Large String Orchestra (14-12-10-8-6)
Solo instruments: Trompete (B), Violine
Introduction: Preface:
ALTAI – TRACES TO INFINITY / SPUREN INS UNENDLICHE is inspired by the endless expanse and beauty of Kasachstan, situated between Caspian Sea and the Altai Mountains. Kasachstan is the ninth large state in the world in terms of area and for most of Europeans a unknown spot of earth. The Altai Mountains are a unique natural wonder full of myths. They are situated at the eastern border with heights up to 4500 meters and are the transition to Mongolia, China and Russia's Siberia.
The motifs and the musical material are partly modelled on traditional Kazakh music. The intervals, rhythms and melodic types of Kazakh folklore are very independent and of unbelievable richness. Some songs and dances were also quoted verbatim: for example the "Chant Shakerim" by Eli Erbalin, or the "Telkocyr – A foal with two Queens" by K. Klybayeva. They come from the collection of 19th century, which has become legendary for Kazakh music "500 kasakh Songs and Kyuis" by Aleksandr V. Zataevich.
All musical impressions are arranged very fleetingly as a "kaleidoscope": no strict development of motifs, but a dazzling variety of rapidly changing moods. The two dissimilar solo instruments violin and piccolo trumpet dip into these moods in mostly surprising twists.
Vorwort:
Dedication: For my mother, Gisela Schneider: she loved the mountains, came from the mountains of the Black Forest and gave me the longing for the mountains!

- - - -
The Concerto was composed in spring 2019 during the last months of my mother's life; to a large extent in her hospital room, where she passed away on 30.3.2019
Additional remarks: The short audio examples above from 1A to 4B are performed by Reinhold Friedrich (Piccolo Trumpet) and "Grisha" Gregory Assh (Violin), with MÜNCHNER SYMPHONIKER conducted by Martín Baeza-Rubio. Recorded in 2022, CD will be released in January 2023 at Label SOLO MUSICA.
World premiere: 01.03.2020
Records: 2023