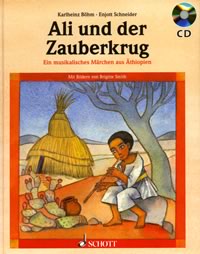 Update Required
To play the media you will need to either update your browser to a recent version or update your
Flash plugin
.
Category: Symphonic / Orchestral , Chamber Music , Opera / Music Theatre , Recordings
ALI AND THE MAGIC JUG, a musical fairy tale from Ethiopia (text arranged by Peter Hanser-Strecker) is published three times: as a version for symphonic orchestra and narrator in the tradition of "Peter and the Wolf", as an easily realisable chamber music version for flute, harp, string sextet and narrator, ...as well as in a book and audio version with CD recording: famours actor Karlheinz Böhm (narrator) and the Philharmonic Orchestra of the Staatstheater Mainz (cond. Catherine Rückwardt). At the centre of the story is the young Ali, who leads a hard, modest life and knows how to conjure up a white ghost with his flute playing, enabling him to escape from his poverty... together with his friend Amina and her fiddle. An exciting fairy tale with music-making in the busy African daily life, with the ghost in the graveyard, - it is about friendship, joy in the village and greed....Amina's mother only runs after wealth and misses the essential moments of happiness!
- HAGOSSA, Ali's Theme as a song for children with lyrics by Stefan Waggershausen.
Movements: 1: Ali / 2: Playing the Flute / 3: The Storm /4: The White Ghost / 5: The Enchanted Jug / 6: Joy in the Village / 7: The Greedy Aunt /8:Amina and the Ghost / 9: The Disaster /
10: Finale
Duration: 25:00
Publisher of notes/sheet music: Schott Musik International , 2004
Instrumentation: 1) Fl., hp., vl. 1 + 2, Viola 1 + 2, c., db. (strings as soloistic sextet or string orhestra)

2) Large orchestra: 2 Fl (also picc.), 1 oboe,2 clar (B),
1 bs., 3 hr (F), 1 tro., kettledrum, 1 percussionist, harp
string orchestra
Solo instruments: Flute, Harp
Text/Lyrics by: Peter Hanser - Strecker (after an African fairy tale)
Introduction: Ein musikalisches Märchen in Art von 'Peter und der Wolf' mit den Soloinstrumenten Flöte (=Ali) und Bratsche (= Fidel der Freundin Amina). Der Erzähler führt durch das Märchen, das auch szenisch als Bühnenwerk aufgeführt werden kann.
Zur Melodie des Finale (Ali-Thema) gibt es auch ein Kinderlied 'Hagossa' als eigenständiges Werk, das aber im szenischen Kontext gesungen werden kann.

Im Schottverlag Mainz ist zur Musik auch ein Buch mit Bildern, Noten und CD für den pädagogischen Gebrauch erschienen.
Dedication: Peter Hanser-Strecker in Freundschaft gewidmet
Additional remarks: 'Ali and the Enchanted Jug' exists in two versions: narrator and orchestra or narrator and chamber ensemble (string sextet, flute and harp). It tells the story of the African boy named ali who practices his flute-playing in order to attain wealth, happiness and win his girlfriend Amina with the help of the whilte ghost. Amina is playing the fiddle which all leads to an atmospheric finale and a gripping ghost story.

The same-named story book published by Schott Music originated from the co-operation between Enjott Schneider and Karlheinz Boehm, the narrator of the first performance. The production received the Media Prize 2006 of the Association of the German School Music Educators and of the foundation Pro Musica Viva.
World premiere: 08.07.2004, Staatstheater Mainz (Konzert:
Performers at world premiere: World premiere of the chamber music version on 31.8.2002 with Karlheinz Böhm (narrator), Daniel Frosch (flute) and the Peter-Cornelius-Conservatoire ensemble, Mainz, conducted by general music director Gernot Sahler.

World premiere of the orchestral version on 19.3.2005 in Mainz Staatstheater with Karlheinz Böhm, conducted by Caatherine Rückwardt
Press reviews for world premiere: Rhein-Zeitung on 21.3.2005: 'Karlheinz Böhm: The history is a nice example of the fact that one simply should live. Through his joy of playing a piece of music, Ali wakes the ghost from his grave and gets as a gift the magic jug. And the woman who craves wealth is carried by the same ghost in on the other side - or at least from her culture. The music is quite astonishing for me. Enjott Schneider has - as I find - made very successful orchestra piece .'
Records: WERGO/Schott Musik and SWR live recording, 2004
Performers on recording: CD with Karl-Heinz Böhm (narrator) and the Staatstheater Mainz orchestra, conducted by Catherine Rückwardt.
Book: Karlheinz Böhm / Enjott Schneider: ALI AND THE ENCHANTED JUG
ED 9773 ISBN 3-7957-0509-6

SWR live recording of the chamber music version:ein Mitschnitt des SWR der kammermusikfassung:
Karlheinz Böhm (narrator), Daniel Frosch (flutes) and the Peter-Cornelius-Conservatoire Mainz conducted by Gernot Sahler