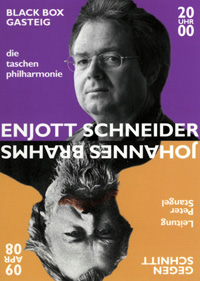 Update Required
To play the media you will need to either update your browser to a recent version or update your
Flash plugin
.
Category: Chamber Music , Symphonic / Orchestral
Duration: 13 Minutes
Instrumentation: 1 Flute (also Piccolo)
1 Oboe
2 Clarinets in B
1 Bassoon
1 French Horn (F)
1 Percussionist: with kettledrums, vibraphone, bass drum (also played with pedal), hanging cymbal, tamtam, 2-3 tomtoms, 2-3 wood blocks, crash sheet as lib., triangle (small, hanging), xylophone (ad lib.), snare drum

a) Stings orchestral
Vl.1, Vl.2, Vla., C, Db, (at least 6-6-4-3-2)
With solo violin and solo cello

b) Soloist strings
Vl.1, Vl.2, Vla, C, Db

World premiere on the 9th of April in BlackBox in Gasteig, Munich with the "Tschenphilharmoie", conducted by Peter Stangel as part of the "Gegenschnitt 6: Brahms" concert.


Introduction: As the title of Francoise Sagan's novel "Aimez-vous Brahms?" mischievously suggests, the Hungarian element in Brahms' music is unconventionally questioned. As piano accompanist of the Hungarian violinist Eduard Reményi, Brahms internalised the popular gypsy music which, throughout his whole work, clearly left traces in many movements and thematic structures.

Schneider's work wants to show the connection between the common gypsy music and the anarchic and authentic folk music. Beside Brahms passages from the violin concerto and Hungarian Dances, the piece consists of percussion-dominated wild passages, polyrhythms, asymmetric 11/8-, 5/8- or 7/8- rhythms, as known from original village music.


Dedication: Cordially dedicated the conductor of "die Taschenphilharmonie", Peter Stangel with his light and deep sense of humor.
World premiere: 04.09.2008, BlackBox Gasteig München
Performers at world premiere: World premiere with "die Taschenphilharmonie", conducted by Peter Stangel as part of the "Gegenschnitt 6: Brahms" concert.
Press reviews for world premiere: Süddeutsche Zeitung of the 11th of April 2008 on the occasion of the world premiere
"Enjott Schneider questions Brahms' material in relation to contemporary composition: sometimes more, sometimes less dense at the pulse of a new tonal language. The loops of the first piece take more than just the sheer material as substantial basis, but double and combine it in a new way, whereas the "Almost Hungarian Dance" uncovers deep lying structured, mood and expression. Much acclaim"