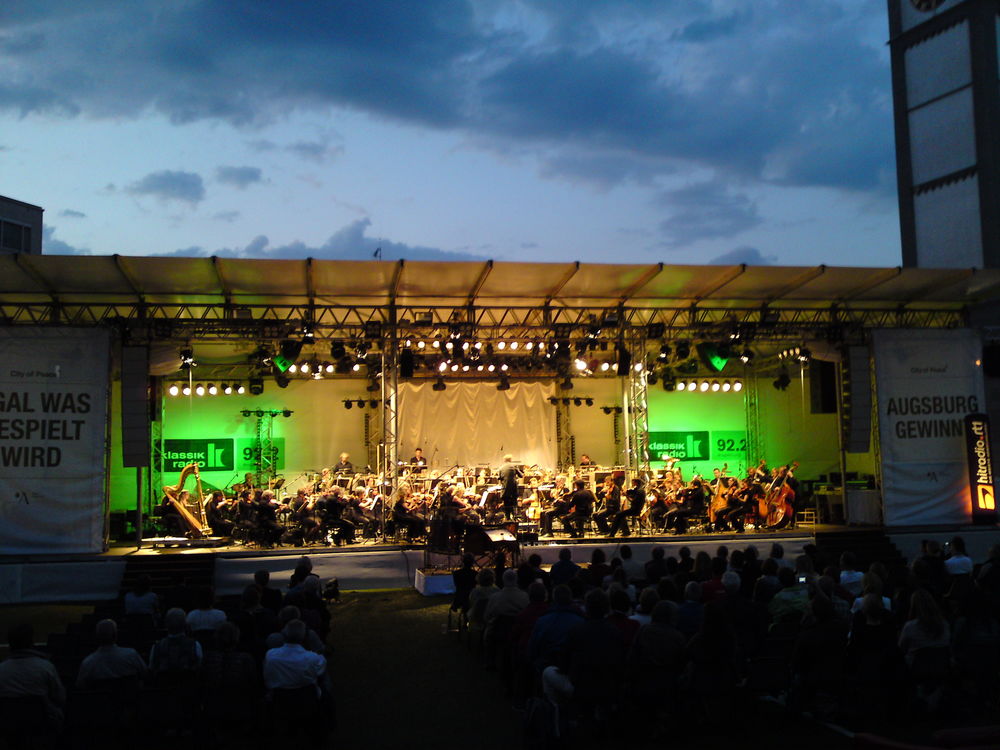 Update Required
To play the media you will need to either update your browser to a recent version or update your
Flash plugin
.
Category: Symphonic / Orchestral
Duration: 8 minutes
Instrumentation: Piccolo / flute / 2 oboes / 2 clarinets (B-flat) / bass clarinet / 2 bassoons
3 horns (F) / 3 Trumpets (B-flat) / 3 trombones (TTB) / bass tuba /
Solo percussion (two bass drums, tom toms)
Percussion 1-3 (3 players) with hand drums (congas, etc.), claves, tom-tom, African bells (or 2 cowbells), triangle, snare drum, medium and small cymbals, xylophone, bass drum
Large string orchestra 16-14-12-10-8-8
Solo instruments: Percussion
Introduction: The Bembee rhythm is an African rhythm, expressing joie de vivre, power and vitality. At its beginning and at the end of the composition, a hymn-like melody with major key joy is evident. The central part takes the Bembee rhythm on an emotional journey and shows different variations - you can hear the voodoo magic, excessive force, ritual dance and sometimes dangerous, almost uncontrollable sub-parts. A country on the rise, full of contradictions, - and at the end of the day, full of everlasting vitality.


World premiere: 06.07.2011, Augsburg Rathausplatz/Kulturstadion
Performers at world premiere: as part of the concert LÄNDERSPIEL – EINE MUSIKALISCHE WELTREISE in the concert series CITY OF PEACE, Stefan Blum (solo percussion), Augsburg Philharmonic,
cond.: GMD Dirk Kaftan


Press reviews for world premiere: 'Augsburger Allgemeine Zeitung': 90 minutes is the duration of a soccer match, and it took almost that long for general musical director Dirk Kaftan and his Philharmonic Orchestra to take the audience of the 'Kulturstadion' on a musical journey around the world...Finally, there were also two world premieres - each in the presence of the respective composer. To represent the African teams "African Bembee" of the film score composer Enjott Schneider, some sort of a fantasy about an African festival rhythm, there was a brilliant solo of the African percussions by Stefan Blum. The grand vibrant Latin-American finale that Kaftan and his musicians served to the audience really made that audience of 'Kulturstadion' giddy with excitement. Claus Lamey