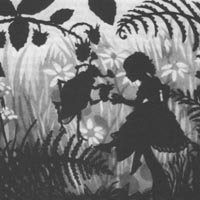 Update Required
To play the media you will need to either update your browser to a recent version or update your
Flash plugin
.
Category: Film Music
Lotte Reiniger, who was born in Berlin in 1899 and died in Dettenhausen in 1981, is considered one of the most outstanding artists in the field of animated film; inspired by Chinese shadow theatre, she developed the genre of silhouette film in the early 1920s.
Enjott Schneider, one of the leading German film composers, created new soundtracks for only six instruments to accompany four of her imaginative and expressive fairy tale short films. These can also be performed by school or amateur ensembles, but leave room for a more differentiated interpretation. Stylistically, each score is characterized by small peculiarities: 'Dr. Doolittle' has an 'ethno' character due to the African theme and a clear dominance of the percussive; 'Thumbelina' is a tonal floating row composition; 'Puss in boots' is influenced by swing and jazz; 'Cinderella' takes up a fairy tale style oriented towards children. (from the catalogue 'film music' of the music publisher Schott)
Movements: 1: Dr. Doolittle and his animals (Germany1928) 2: Thumbelina (Däumelinchen) (Great Britain 1954) 3: Puss-in-Boots (Der gestiefelte Kater) (Great Britain 1954) 4: Cinderella (Aschenputtel) (Great Britain 1954)
Duration: 55:00 (25:00, 10:00, 10:00, 10:00)
Publisher of notes/sheet music: Schott Musik International , Leihmaterial /Partitur und Stimmen , 1999
Instrumentation: Clarinet (alto saxophone.), accordeon, drums, viola, cello, double bass (6 musicians)
Introduction: To get the movies for these silent movie scores:

1. Christel Strobel, Agentur für Primrose Productions, Werner- Friedmann-Bogen 18, 80993 München (details look on google) owns the performance rights of the Lotte Reiniger-Movies. She is the mother of Frank Stroble, in Germany a celebrated conductor for film music and silent films. I was in contact with her and got there VHS copies etc.

2. Deutsches Filmmuseum Frankfurt /Schaumainkai 41 / 60596 Frankfurt am Main /069 96122022-0 has all filmcopies in original versions (some years ago when i composed these pieces I sponsored one copy of Deutsches Filmmuseum). Perhaps you ask if you can get there DVDs oder VHS-copies....
World premiere: 12.01.2000, Caligari - Kino Wiesbaden
Performers at world premiere: Instrumental-Ensemble, Leitung: Nathalie Schwarzer
Press reviews for world premiere: Wiesbadener Tagblatt (15.12.99)...konnte der renommierte Münchner Komponist Enjott Schneider gewonnen werden, der in sehr individuellen Zügen die einzelnen Charaktere treffsicher nachzeichnete und dabei doch nie den Zusammenhang ausblenden mußte. Unter der musikalischen Leitung von Nathalie Schwarzer entwickelte das Ensemble so eine ganz eigene Dynamik, die in Kombination mit den lebendig wirkenden Scherenschnitten einen spannungsvollen Dialog erzeugte.
Wiesbadener Tagblatt (Leserbrief vom 21.12.99)...das Orchester spielte in hervorragender Abstimmung und Kinder wie Erwachsene folgten dem Geschehen mit Faszination..alle waren gebannt von diesen zauberhaften Filmen mit der begleitenden Musiki und den Texten...