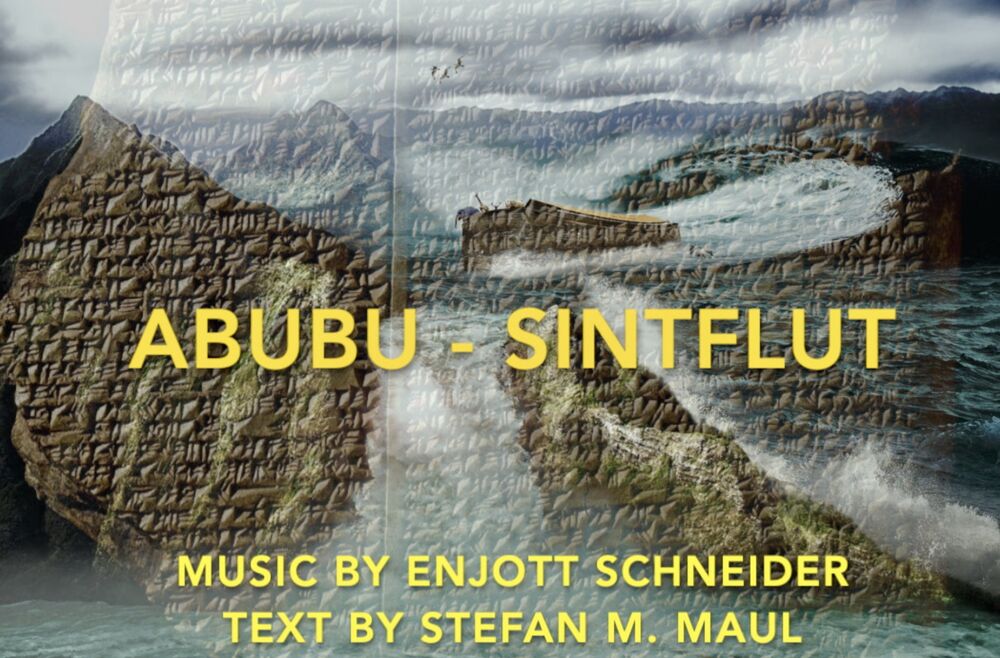 Update Required
To play the media you will need to either update your browser to a recent version or update your
Flash plugin
.
Category: Symphonic / Orchestral , Choir / Vocal , Organ / Sacred Music
The Epic of Gilgamesh is about 5,000 years old, exists in eleven ancient Babylonian cuneiform tablets and is one of the oldest literary texts in verse form. Since it refers to original Sumerian versions (also in cuneiform), its origins are still very much in the dark. If one takes into account the pre-Eastronautical research of the extraterrestrial "gods" of the Anunaki, which is now seriously documented, one enters a fascinating no-man's land that deals with the creation of man and the developmentally erratic and still inexplicable beginning of culture - astronomical, medical and mathematical knowledge indicate a high level of knowledge of a civilisation before the Flood, which is also archaeologically documented.
The Heidelberg assyrologist Stefan Maul is an international luminary with his chair and has translated and commented on the Gilgamesh epic in an epoch-making new way. Without venturing onto the scientific slippery slope of many obvious speculations, his research and commentaries are objectively assured: thus, in any case, the certainty remains that the Babylonian-Sumerian account of the Flood as the focus of the Gilgamesh Epic represents the older blueprint for the biblical version: the archetype of the biblical Noah is the Uta-Napishti presented here.
Movements: ABUBU / SINTFLUT
aus dem Gilgamesch-Epos
für Tenor, Bariton, Chor und Orchester
(Text aus babylonischer Keilschrift,
übersetzt von Stefan M. Maul)


Nr. 1 Introduktion
Nr. 2 Prolog
Der die Tiefe sah / ša nagba īmuru
Nr. 3 Hymnus
Hochaufgewachsener Gilgamesch / šīḫu Gilgāmeš
Nr. 4 Intermezzo
Reise zu "Uta-napischti, dem Fernen"
Nr. 5 Vom Ratschluss der Götter
Geheimnisse will ich offenbaren / luptēka, Gilgāmeš, amāt niṣirti,
Nr. 6 Der Schiffsbau
Nr. 7 Die Beladung
Nr. 8 Der Sturm beginnt
Nr. 9 Die Sintflut
Nr. 10 Das Schweigen
Nr. 11 Taube und Rabe
Nr. 12 Opfer und Versöhnung
Die Götter rochen den süßen Duft / ilū īṣinū irīša ṭāba,
Nr. 13 Enlils Zorn
Nr. 14 Unsterblichkeit für Uta-napischti
Geworden wie wir, die Götter! / lū ēmû kīma ilī nâšīma
Nr: 15 Dies ist das Schicksal der Menschheit
annâma šīmti awīlūtim.
Duration: 45 Minuten
Publisher of notes/sheet music: Strube Musikverlag München , Score, Vocal score & Parts , 2022
Instrumentation: 3 Flutes (3rd. changing to Piccolo)
2 Oboes (2nd changing to cor anglais)
2 clarinets / 1 bass clarinet
2 bassoons (2nd changing to Contrabassoon)
3 frenchhorns
3 trumpets
3 trombones (T T B)
Basstuba
Harp / Harpsichord / Keyboard (for piano, Celesta & electronics)
Timpani / 3 percussion players
Tenor & Baritone solo
Large mixed choir
Large String Orchestra
Text/Lyrics by: (Text des Gilgamesch-Epos aus babylonischer Keilschrift, übersetzt von Stefan M. Maul)
Introduction: Das Gilgamesch-Epos ist etwa 5000 Jahre alt, liegt in elf altbabylonischen Keilschrifttafeln vor und gehört zu den ältesten literarischen Texten in Versform. Da es seinerseits auf sumerische Urfassungen (ebenfalls in Keilschrift) verweist liegen die Anfänge immer noch sehr um Dunkel. Bezieht man die inzwischen seriös belegten praeastronautischen Forschungen der extraterrestrischen "Götter" der Anunaki ein, so gerät man in ein faszinierendes Niemandsland, das von der Erschaffung des Menschen und von dem entwicklungsgeschichtlich sprunghaften und immer noch unerklärlichen Beginn der Kultur handelt, - astronomische, medizinische und mathematisches Kenntnisse deuten auf einen hohen Wissensstand einer Zivilisation vor der auch archäologisch belegten Sintflut hin.
Der Heidelberger Assyrologe Stefan Maul ist mit seinem Lehrstuhl eine internationale Koryphäe und hat das Gilgamesch-Epos epochemachend neu übersetzt und kommentiert. Ohne sich auf das wissenschaftliche Glatteis vieler naheliegender Spekulationen zu begeben, sind seine Forschungen und Kommentare objektiv gesichert: so bleibt auf jeden Fall die Gewissheit, dass der babylonisch-sumerische Sintflut-Bericht als Schwerpunkt des Gilgamesch Epos die ältere Blaupause für die biblische Version darstellt: das Urbild des biblischen Noah ist der hier präsentierte Uta-Napischti.
World premiere: 18.02.2023, Aula der Universität Heidelberg
Performers at world premiere: Solisten, Chor und Orchester des Collegium Musicum Heidelberg
Leitung: Universitätsmusikdirektor Michael Sekulla