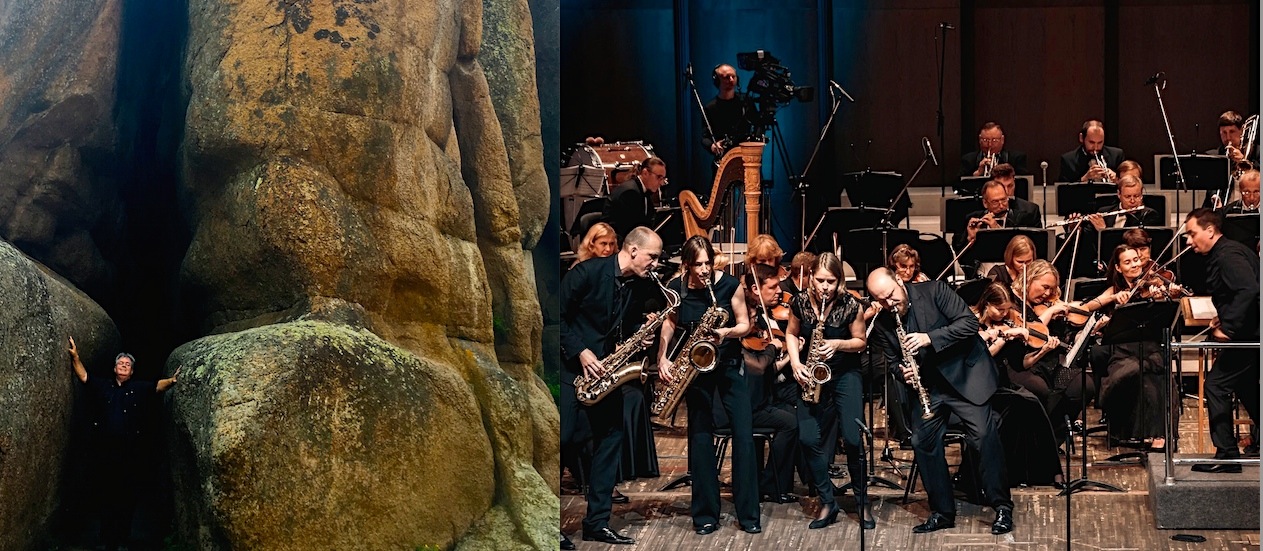 CLAIR OBSCUR in concert & Enjott in Rock Pillars!
Fascinated by Orchestral Sounds:
A new CD-recording with the Siberian State Symphony Orchestra (cond.: Vladimir Lande) in Krasnoyarsk with the quartet CLAIR OBSCUR: - BERLIN PUNK for saxophone quartet & orchestra and CRI MUET (composed for the victims of terrorism in Paris 2015) were played in a sold out Philharmonic Concert on 30th of june... with live TV-transmission and with standing ovations. And also very emotional: Excursions in the monumental siberian landscapes as the River Jenissei with its 4000 kilometers or in the mountains with the famous Rock Pillars... one oft he most spirituel locations in Siberia.
In June and July two orchestral works were composed. 1) a concerto for Piccolo Trumpet and Orchestra, which will be First performed on 19th of october by Otto Sauter in Pirmasens/Germany: L'ANGELICA FARFALLA. DIAMONDS LOST IN THE DARKNESS OF PAST; ...and 2) "INNER WORLDS. Symphonic Mood Paintings" based on the Interludes of opera BAHNWÄRTER THIEL / TRACKMAN THIEL, which will be performed and recorded on CD in 2019 by Jena Philharmonic Orchestra, conducted by Simon Gaudenz.... And freshly printed by publisher Strube-Verlag München: a concerto for Viola solo and Strings FATAL HARMONIES.... variations on a Madrigal of Renaissance Composer Gesualdo...